Discover the decadent fashionable Pâtisserie: The Parisian Macaron (pg. 1)
by Jill Colonna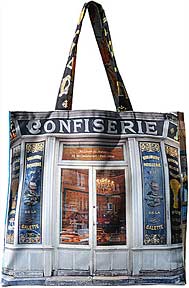 The Boulangerie Pâtisserie du Moulin
de la Galette storefront is depicted on
this polyester souvenir shopping bag.
What is your typical dream of discovering Paris?
Perhaps it's a romantic stroll sauntering by the second hand booksellers along the Seine to the Tuileries Gardens and getting lost on the way via the winding side streets; perhaps it's a fly-boat (fr.: bateau-mouche) trip sipping bubbles past Notre Dame or a bird's-eye city view from the Eiffel Tower, L'Arc de Triomphe or La Défense; perhaps it's an artsy pilgrimage to Le Louvre, Musée d'Orsay, or an impressionistic stop at L'Orangerie or Musée Marmottan?
Beyond the customary tourist spots, could it be a glitzy glimpse at the high-end jewellers of Place Vendôme, a star-studded walk along rue Faubourg St-Honoré's designer fashion boutiques and perfumeries? Or perhaps a whirlwind shopping spree at Les Grands Magasins, finishing off with a coffee on the top floor to check if there is a fantôme running across the Opéra's roof?
It could be all of these things. But let me tell you that there's a significant new accessory that reveals where visitors are now heading in the City of Light. Many are now clutching familiar looking pastel green pâtisserie bags as if they were hand-made designs from Hermès or Vuitton.
No trip to Paris is complete without stopping off at one of the fashionable pastry shops – either between visits or an actual detour to taste an artisan's signature delicacies.
When it comes to pastries, the French are serious! They don't just create them to perfection – they know how to present and sell them, magnificently.
Who can resist the temptation of a French pastry when you see the Masters' works of art in the window fronts? They just have that savoir faire how to present things. They can make a doughnut look glamorous, for goodness' sake. Except they'd call it a beignet.
Parisian bakeries (which also sell croissants under the umbrella of viennoiseries, breakfast breads) don't always sell pastries, and vice-versa. This may sound crazy, but it's one of the first things I learned on arriving here as a student 20 years ago. Ask for a baguette in a pastries-only shop and you could get shot one of those looks – as if you'd crawled out of an éclair au chocolat.
Many pastry shops these days are designed as luxury boutiques. Take a look at Ladurée on the Champs-Elysées, complete with a glitzy pastry bar that easily rivals the buzzing social-scene bar of the Plaza Athénée. It's not just about buying a decadent pastry: it's about queuing in the excitement, deliberating your choice from the chefs' delicious works of pastry art, and settling down in style with a pot of speciality tea or coffee to perfectly match what sticks to your silver pastry fork and spoon.
Most visitors to Paris head to Ladurée's Champs-Elysées or rue Royale salons – but don't forget that there are many other hidden gems on the scene. I love to hide out at Jean-Paul Hévin's Chocolate Bar and savour his chocolate-raspberry pastry or have a hot chocolate that rivals that of his legendary neighbour at Angelina Tearoom.
If you are a real chocoholic, then a jaunt to Jacques Genin's salon de thé is worth a detour to the 3rd arrondissement for a decadent dégustation; sit on a leather sofa amongst the fresh floral arrangements, and admire his chocolate sculptures while sipping another famous spoon-clinging hot chocolate.
The other jewels in the pastry crown are boutiques where you don't sit down, but savour their masterpieces under the shade of a cherry tree by the Seine. Hugo & Victor, Pain de Sucre, Pâtisserie des Rêves (literally translated: pastry shop of dreams), for example, have boutiques which are reminiscent of a museum. The latter's signature pastries are magnificently showcased in upturned glass bell cases hung with counter-weights.
When visiting les Grands Magasins, such as Printemps or Galéries Lafayette, one begins to realise that there's a particular kind of pâtisserie which rules in Paris: Le Macaron. They have macaron boutiques within their stores showcasing a wide array of macaron flavours from the macaron master himself, Pierre Hermé, plus those of Ladurée and Le Café Pouchkine.
There's something so particularly visually appealing about Parisian macarons: they come in such pretty pastel shades or vibrant look-at-me rainbow colours as they adorn stunning displays. There's the macaron tower of Stohrer (reputed to be the oldest pastry shop in Paris) plus many other creative designs using macarons: adorning handbags, hot-air balloons and pyramids.
Even a day trip to the Château de Versailles features the macaron with Ladurée in the castle grounds, tempting visitors in the footsteps of Marie-Antoinette with un petit macaron or two. The vast dining hall at the Château de Vaux-le-Vicomte is decked out with an enormous macaron tower and – on leaving via the boutique – the tower scene is recreated on brightly coloured aprons. Plus, just in case you missed them, there's a chance for you to satisfy your last macaron urge at Charles de Gaulle airport. Just be careful if you carry them home in these little pastel pâtisserie boxes.
CONTINUED » page two