The movies listed below represent a selection of English-language productions we felt might interest you, by virtue of their topical content, filming locations in France, and/or the contributions by talented French actors in the cast. They were directed and produced for an anglophone audience (thus, no subtitles — unless otherwise noted).
In addition to the primary English soundtrack, some DVD versions may also contain other language tracks; read the description for details (VHS versions in English only). To search for more videos by title, region, film genre, director, or performer, simply enter your keyword(s) in one of the search boxes below.
(CLICK ON MOVIE TITLE to see product details, customer reviews, and purchasing info.)
Affair of the Necklace, The 2001
(Hilary Swank, Jonathan Pryce, Simon Baker, Adrien Brody, Brian Cox, Joely Richardson, Christopher Walken)
The plot is based on true events which were integral to the causes of the French Revolution and the beheading of Marie Antoinette. Filming locations in France: the Hall of Mirrors at Versailles, Château de Vaux-le-Vicomte, Château d'Alincourt, Château de Compiègne, and Château de La Bûcherie (plus several castles in the Czech Republic and street scenes filmed in Prague which resemble 18th-century Paris). Milena Canonero received an Academy Award nomination for her authentic period costume design.
An American In Paris 1951
(Leslie Caron, Gene Kelly, Oscar Levant, Georges Guétary, Nina Foch)
Cinematography captures some of the most enchanting sights of post-WWII Paris.
A Soldier's Daughter Never Cries 1998
(Kris Kristofferson, Barbara Hershey, Leelee Sobieski, Virginie Ledoyen)
Better than 80% of the storyline takes place in Paris, offering occasional views of the city, such as Notre-Dame, walks along the quais of the Seine, etc.
Bitter Moon 1994
(Hugh Grant, Emmanuelle Seigner, Kristin Scott-Thomas, Peter Coyote)
Directed by Roman Polanski, whose wife (Emmanuelle Seigner) portrays the role of Mimi, a seductive French femme fatale. This film "is, at various turns, erotic, outrageous, outlandish, hilarious, titillating and unbelievable." Soundtrack by Vangelis — perhaps best-known for his title theme in Chariots of Fire.
Charlotte Gray 2001
(Cate Blanchett, Billy Crudup, Michael Gambon, James Fleet, et al, plus hundreds of native French townspeople)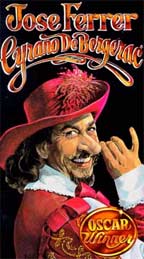 Much of this production was filmed in the towns of Saint-Antonin Noble Val and Cayrac (department of Tarn-et-Garonne, Midi-Pyrénées) and the surrounding countryside, whose appearance has changed little since World War II — when the storyline takes place. Special features on the DVD include commentary by director Gillian Armstrong, plus two documentaries: A Village Revisits History and Living Through Wartime, which poignantly recount the townspeople's experiences under Vichy French government — torn between collaboration with the occupying Nazi regime or alliance with the French Resistance.
Cyrano de Bergerac 1950
(José Ferrer, Mala Powers, William Prince)
José Ferrer won an Oscar for his portrayal of Cyrano in this screen adaptation of Edmond Rostand's romantic play.
Damage 1993
(Jeremy Irons, Juliette Binoche, Miranda Richardson, Rupert Graves)
Directed by Louis Malle (Au Revoir les Enfants). Powerfully sensual performance by Binoche.
Frantic 1988
(Harrison Ford, Emmanuelle Seigner, Betty Buckley)
Directed by Roman Polanski. Portions filmed in the Grand Hôtel Intercontinental. Memorable views of Opéra Garnier, streets of Paris, and the waterfront of the Seine River (particularly at l'allée des Cygnes).
French Connection I 1971
(Gene Hackman, Fernando Rey, Roy Scheider, Marcel Bozzuffi, Frédéric de Pasquale)
Portions filmed in Marseilles. Filmmaker's high-strung documentary technique borrows from Costa-Gravas thrillers such as Z. Multiple Oscars awarded (Best Film, Best Actor, etc.). Available as a boxed DVD set with French Connection II.
French Connection II 1975
(Gene Hackman, Fernando Rey, Bernard Fresson, Jean-Pierre Castaldi)
The sequel to French Connection I is mostly filmed in Marseilles. As the story line takes place in France, most of the film's cast are French. Excellent performance by Gene Hackman; Fernando Rey is suave and cruel in his role as French drug-lord Alain Charnier.
French Kiss 1995
(Meg Ryan, Kevin Kline, Timothy Hutton, Jean Réno, François Cluzet)
Charming, romantic, screwball comedy filmed in Paris (including the Hôtel George V). Kevin Kline's "French" accent will leave you in stitches.
Green Card 1991
(Gérard Depardieu, Andie McDowell, Bebe Neuwirth)
A delightfully humorous performance by Depardieu, who plays a composer and one-time petty thief, attempting to escape his life in Paris and begin anew in America.
Leon - The Professional 1994
(Jean Reno, Gary Oldman, Natalie Portman, Danny Aiello)
American directorial debut by Luc Besson (La Femme Nikita), featuring engaging performances between Reno and Portman. DVD version offers optional French and Spanish soundtracks.
Les Misérables 1998
(Liam Neeson, Geoffrey Rush, Uma Thurman, Claire Danes)
A visually stunning work. Although filmed mainly in the Czech Republic in and around Prague, it looks very much as it probably did in France 150 years ago.
Maximum Risk 1996
(Jean-Claude van Damme, Natasha Henstridge, Jean-Hugues Anglade)
Van Damme plays a French cop, Alain Moreau. Portions filmed in southern France.
Mission: Impossible 1996
(Tom Cruise, Emmanuelle Béart, Jon Voight, Jean Reno)
Primarily included in this list by virtue of its French actors, Béart and Reno.
Moulin Rouge 1952
(José Ferrer, Zsa Zsa Gabor, Suzanne Flon, Claude Nollier)
A masterpiece, directed by John Huston. José Ferrer portrays the role of Henri de Toulouse-Lautrec with touching sensitivity and pathos.
Moulin Rouge 2001
(Nicole Kidman, Ewan McGregor, John Leguizamo)
A pop-culture musical, recreating Paris of the 1890's (complete with can-can dancers, bohemian denizens like Toulouse-Lautrec, and ribaldry at every turn), featuring extraordinary sets, costumes, and digital wizardry.
Ronin 1998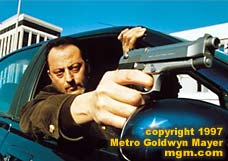 (Robert De Niro, Jean Reno, Natasha McElhone, Stellan Skarsgård, Sean Bean, Skipp Sudduth, Jonathan Pryce, Michael Lonsdale)
Masterfully directed by John Frankenheimer, this American film was shot on location in France, with extensive cooperation from La Mairie de Paris, La Préfecture de Police, the Paris Parks Dept., and many others. In addition to the stellar principal cast, over 2,000 French extras add dimension to a number of scenes. French Formula 1 driver Jean-Pierre Jarrier and 300 more race- and stunt-car drivers offer some of the most thrilling chase scenes ever witnessed on film — racing through the streets of Paris, Old Nice, and the breathtaking vistas of Les Baux. There is no shortage of authentic French scenery in this movie, including views of Montmartre streets and Sacré-Coeur, the Eiffel Tower, the Seine waterfront and its bridges, a bateau-mouche, the Paris métro, aerial views of Nice and interiors of the Hotel Majestic, the waterfront in the town of Villefranche, fantastic aerial views of Arles and its Roman arena (plus action sequences inside the arena), and back to Paris for more drama at Le Zénith ice-skating arena. The musical score complements the onscreen action, and includes a wonderful reprieve in the form of Rachmaninoff's Rhapsody On a Theme of Paganini during the ice-skating segment. Francophile viewers will not be disappointed by this cinematic tour de force. (Note: about 10% of the spoken dialogue is in French, with English subtitles.)
Sabrina 1995
(Julia Ormond, Harrison Ford, Greg Kinnear, Nancy Marchand, Richard Crenna, Lauren Holly)
Charming, light-hearted comedy; a re-make of Audrey Hepburn's 1954 title role. Portions of film shot in Paris.
Vatel 2000
(Gérard Depardieu, Uma Thurman, Tim Roth, Julian Glover, Julian Sands)
Directed by Roland Joffé (The Killing Fields). A dazzling visual masterpiece with beautiful sets and costumes. Filmed at Château de Vaux-le-Vicomte, although the storyline takes place at Chantilly.
In order to offer you the widest possible selection, we provide two different search boxes:
(1.) The one on the left will present you with products from our U.S. catalogue, which are shipped from distribution centers in the U.S. For residents of the North American continent, the shipping costs from this catalogue will be most economical.
(2.) Some products — such as non-subtitled native French-language editions or other videos from European distributors — may not be available from the U.S. catalogue. In these instances, you may wish to search the French catalogue (on the right). The resulting pages will be in French, and products shown will be shipped from distribution centers in France. (see chart for worldwide shipping charges)
Please note: VHS video titles in the French catalogue will most often be offered in the SECAM format, which is not compatible with most North American players. Similarly, DVD titles from the French catalogue may be encoded to play only on players sold in Europe. Read the product description carefully to be certain before making a purchase from the French catalogue, if you live in North America or other regions outside of France.
Search Tips: try the keywords "France" and "travel" to find assorted travelogues or documentaries. To locate videos about Provence or castles of the Loire valley, simply enter the keywords "Provence" or "Loire". If you prefer to see movies featuring a particular performer, you can enter their full name or just the last name — such as "Sophie Marceau" or "Belmondo". You may also wish to try keywords for specific directors — such as "Cocteau" or "Louis Malle".
| | | |
| --- | --- | --- |
| SEARCH U.S. CATALOGUE | | SEARCH FRENCH CATALOGUE |
| | | |