Before 1998, the state-owned operator – France Télécom – had a monopoly on telecommunications in France. Now, the telecom sector has been opened up to competition and other companies can offer telephone subscriptions, but only for long-distance and medium-distance calls, because France Télécom keeps its monopoly on local calls. The new operators include Cegetel (Le 7), 9 Télécom (Le 9), Télé 2 (Le 4) and Kertel, plus a number of brand-name consumer goods distributors that offer telephone subscriptions to their customers.
Calling France From Abroad
To call France from abroad, dial the international access code ("011" from the U.S. and Canada, "00" from the U.K., "0011" from Australia, "00" from New Zealand, "09" from South Africa), followed by "33" (France's country code), then "1" for Paris. Note that numbers in the Paris/Ile-de-France region always begin with "01" and have a total of 10 digits. When dialing Paris from outside of France, however, you drop the initial "0" – thus using only 9 of the number's 10 digits.
Example: to reach 01.44.52.64.40 from your home or office in North America, dial 011 33 144.52.64.40.
The same principle applies to calling numbers in other regions of France: "02" (Northwest France), "03" (Northeast France), "04" (Southeast France and Corsica), "05" (Southwest France), "06" (mobile numbers).
TIME ZONES

Keep in mind the difference in time zones when you're calling home. Paris time is equal to GMT (Greenwich Mean Time) plus one hour in winter, or plus two hours in summer. When it is 12 noon in Paris (during winter), it is:

The same time in Amsterdam, Berlin, Madrid, Reykjavík, Rome, Stockholm, Vienna and Zürich
11 a.m. in London, England
and Dublin, Ireland
6 a.m. in Ottawa, Ontario
and Montréal, Québec
6 a.m. in Washington, D.C.
and New York, NY
5 a.m. in Chicago, IL and Dallas, TX
3 a.m. in Los Angeles, CA
and Vancouver, BC
2 a.m. in Anchorage, AK
1 a.m. in Honolulu, HI
1 p.m. in Cairo, Egypt
and Jerusalem, Israel
1 p.m. in Johannesburg, South Africa
2 p.m. in Athens, Greece
2 p.m. in Moscow and
St. Petersburg, Russia
7 p.m. in Bejing, China and Hong Kong
9 p.m. in Sydney, Australia
11 p.m. in Wellington, New Zealand

Daylight Saving Time

Daylight saving time throughout the E.U. begins on the last Sunday of March at 2:00 a.m. (1:00 GMT)
And ends on the last Sunday of October at 2:00 a.m. (1:00 GMT)

March 31, 2013
March 30, 2014
March 29, 2015
March 27, 2016
March 26, 2017
March 25, 2018

Oct. 27, 2013
Oct. 26, 2014
Oct. 25, 2015
Oct. 30, 2016
Oct. 29, 2017
Oct. 28, 2018
Calling Abroad From France
To reach other countries from France, dial "00" (international access code), followed by the country code (see partial list below), then the area code, and finally the party's local phone number.
Example: to reach a number in New York, dial 00 1 212-555-1212.
Special entries in the country's numbering plan allow for dialing to overseas French departments (DOM – Département d'Outre-Mer). Numbers in Mayotte, for instance, would be dialed from France as "0269" plus the 6-digit standard local number used in the French departments – for a 10-digit total. These numbers coincide with the departments' respective country codes, and these assignments will not conflict with the new France numbering plan:
262 Reunion
269 Mayotte
508 St. Pierre & Miquelon
590 Guadeloupe
594 Guyana
596 Martinique
Calls to French overseas territories (TOM – Territoire d'Outre-Mer) are made using the standard international calling protocol ("00" + country code). TOMs include: Antarctica (+672), Wallis and Futuna (+681), New Caledonia (+687), and French Polynesia (+689).
Selected Country Codes
| | | |
| --- | --- | --- |
| Australia +61 | | New Zealand +64 |
| Canada +1 | | United Kingdom +44 |
| Ireland +353 | | USA +1 |
Calling Within France
For calls within France – local or long-distance – simply dial all ten digits of the French number. Numbers beginning with "08.00" are toll-free numbers; those beginning with "08.36" are premium-rate (from €0.34 per minute), and those beginning with "06" are mobile and therefore also expensive to call.
Important note: Subscribers to alternative calling plans will dial 7, 9 or 4 – instead of the initial "0".
French Phone Rates
During peak times (heures pleines), local and long-distance landline calls within metropolitan France¹ cost €0.028 per minute (€0.078 minimum). Calls to overseas departments² incur a €0.078 connection fee, plus €0.127 per minute.
Rates are discounted between 23-50% during off-peak times (heures creuses) – weekdays between 7:00 p.m. and 8:00 a.m., weekends from 7:00 p.m. Friday to 8:00 a.m. Monday, and on holidays.
From a private landline phone, a call to western European countries (including U.K./Ireland), Canada, and the lower 48 U.S. will cost between €0.12 (off-peak) and €0.22 (peak) per minute. Calls to eastern European countries (plus Gibraltar, Greenland, Iceland), and Alaska/Hawaii in the U.S. cost €0.33-0.48 per minute. Calls to Australia, New Zealand, and Russia cost €0.34-0.49 per minute. Mexico, Central America, and most Caribbean islands cost €0.86-1.10 per minute; South America costs €0.49-0.84 per minute.
Calls to mobile phones in most countries, originating from a private landline in France, cost a flat €0.222 per minute – except for the Maghreb countries (Algeria, Morocco, Tunisia) which are €0.079 per minute.
[1] Metropolitan France consists of the mainland plus the island of Corsica. [2] Overseas departments include French Guiana, Martinique & Guadeloupe, Mayotte, Réunion, and Saint-Pierre-et-Miquelon.
Calling From A Hotel Room
The best advice we can offer is summed up in one word: don't! Depending on the number of stars and the commercial policy of the hotel, expect to pay three to four times more than you would by using public telephones at the post office, in cafés or in phone booths. One Best Western hotel admitted to charging €5 a minute – so travelers beware!

Using Pay Phones in France
You can make both domestic and international phone calls from any telephone booth (cabine téléphonique) and can receive calls where there's a blue logo of a ringing bell. Pay phones can be found everywhere (168,000 throughout France) – street corners, Métro and train stations, post offices and other public places.
A 50-unit (€6.19) or 120-unit (€14.87) phone card – called a télécarte – is essential, since coin boxes have been mostly phased out. Phone cards are available from tabacs (tobacco shops) and kiosques (newsstands) marked "Télécarte en vente ici" – as well as post offices, tourism bureaus, and some Métro/RER station ticket agents.
Instructions in French telephone booths are also provided in English, but the writing is small and the steps are not perfectly clear. Pick up the receiver, insert your card into the slot, wait for the dial tone, then dial. To call the United States or Canada, dial "00 1", then the area code and number; to reach the United Kingdom, dial "00 44", then the city code and number.
The télécartes have a specific number of bits (units or unités) which are used up as you make calls. (Click here to see effective per-minute calling rates.) Whenever you insert your card into a phone slot, your remaining amount of credit is displayed, and you can see the balance decrease throughout the call. When depleted, just throw the used card away (unless you're building a collection for your scrapbook) and buy another. TIP: When you hang up, don't forget to retrieve your card!
Many call boxes will also accept credit cards – though this method can be quite expensive.
Coin-only boxes, though scarce, still exist in cafés, bars, and hotel foyers – where the establishment may set its own price for use. Put the money in after lifting up the receiver and before dialing. You can keep adding more coins once you are connected.
Calling Cards
One of the most convenient – though rather pricey – ways of making international calls is to use a billed calling card, opening an account before you leave home; calls will be charged monthly to your credit card, to your phone bill if you are already a customer, or to your home address. Beware: the rates per minute of these cards are many times higher than the cost of calling from a public phone in France, with flat rates only.

The best value is offered by Interglobe (tel 020/7972 0800; 50p/min to the U.K.), followed by AT&T (tel 0500/626262; $US1.50/min to the U.K.), then Cable and Wireless Calling Card (tel 0500/100505; 68p/min to the U.K.), and Swiftcall Global Card (tel 0800/7691444; 70p/min to the U.K.). British Telecom's BT Charge Card (tel 0800/345600 or 0800/345144) offers the worst value with calls from France to the U.K. charged at 90p per minute. But since all of these cards are free to obtain, it's certainly worth getting one – at least for emergencies. You dial a free number (make sure you have with you the relevant number for France), your account number and then the number you wish to call. The drawback is that the free number is often busy and you have to dial a great many digits.
If you need to make many foreign calls from France, several companies offer cheap-rated phone cards, such as the bargain-basement store Tati who sell a €7.62 or €15.24 Intercall Carte Téléphone (tel 08.00.51.79.43) for calling overseas – which you can use in a public or private telephone. A €7.62 card gives you, for example, 15 minutes to Australia, 32 minutes to Canada or the U.S. and 49 minutes to the U.K. These rates work out much cheaper than using France Télécom from a public phone.
Collect Calls
To avoid payment altogether, you can, of course, make a reverse charge or collect call – known in French as téléphoner en PCV – by contacting the international operator. You can also do this through the operator in the U.K., by dialing the Home Direct number 08.00.89.00.33; to get an English-speaking operator for North America, dial "00.00.11". The charges for collect calls can be outrageously high, and are best reserved for the most dire of emergencies, or for calling a very understanding and generous relative!
Using Cell Phones
Some British mobile phones, as long as they're digital, will work in France. Getting a mobile phone in France is – in principle – simply a matter of visiting a phone boutique (for instance, a France Télécom store) with identification, proof of address and proof of ability to pay. This involves setting up a French bank account, which will entitle you to the bona fide certificate known as an RIB (Relève d'Identité Bancaire); to obtain this you will need to provide a copy of a utility bill with your name on it, not necessarily a problem since banks are prepared to accept foreign utility bills.
Cell phones from the U.S. will most often not work in France, unless you have a tri-band (900/1800/1900 MHz) GSM model which is not locked by your carrier, and you have obtained a (rechargeable) French SIM card to insert into the phone.
Making Emergency Calls
The emergency numbers in France for police, fire, and medical assistance are as follows: 17 (police emergency), 18 (fire department) and 15 (emergency medical/paramedic team/ambulance). In Monaco, the numbers are 17 (police emergency), 18 (fire department) and 9375-2525 (medical/paramedic team/ambulance).
Sending Faxes
Faxes can be sent from all main post offices and many photocopy stores: the official French word is télécopie, but people use the word fax. A typical rate for sending a fax within France is €3.81 for the first page, and €0.92 for subsequent pages.
Minitel
The Minitel was a Videotex online service accessible through telephone lines, and is considered one of the world's most successful pre-World Wide Web online services. The network was rolled out experimentally in 1978 in Brittany and throughout France in 1982 by the PTT (Poste, Téléphone et Télécommunications; divided since 1991 between France Télécom and La Poste).
From its early days, users could conduct online purchases, make train reservations, check stock prices, search the telephone directory, have a mail box, and chat in a manner similar to that now made possible by the Internet.
In February 2009, France Télécom indicated that the Minitel network still had 10 million monthly connections. The service was finally retired on 30 June 2012.
About France Télécom
France Télécom (called Orange after 1 July 2013) is one of the world's leading telecommunications carriers – the second-largest wireless operator and Internet access provider in Europe, with 229.8 million customers (31 March 2013) on the five continents, in 220 countries and territories. Consolidated operating revenues were €43.5 billion in 2012 (€10.28 billion for the first quarter of 2013). Operating cash flow was €8 billion in 2012.
Through its major international brands, including Orange, Wanadoo, Equant and GlobeCast, France Télécom provides businesses, consumers and other carriers with a complete portfolio of solutions that spans local, long-distance and international telephony, wireless, Internet, multimedia, data, broadcast and cable TV services.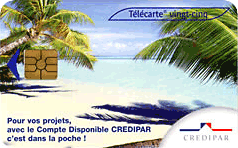 Collectible & Personalized Télécartes
Collecting télécartes has become a popular pastime for many, because France Télécom prints a never-ending variety of limited-edition cards featuring colorful graphics. Some of the most coveted and rare editions are those printed for the TAAF (Terres Australes et Antarctiques Françaises), sporting images of the geography, flora and fauna of such remote outposts as the Adélie Coast (Terre Adélie) in Antarctica, and the islands of Amsterdam, Crozet, Kerguelen, and St. Paul – as well as the more hospitable regions of French Polynesia.
Recently, France Télécom has gone the extra mile by offering customers personalized télécartes. One can choose images from a large online library, or by uploading a photo from one's own computer. There is a 10-day delivery period for these personalized cards, thus they are better suited for an extended visit to France. Visit www.macarte.com for more information.
GO TO NEXT PAGE » E-mail and the Internet
| | |
| --- | --- |
| Related Links | |
Yellow Pages and White Pages
Look up any business or person's name in France – by town, postal code, or region. Perform a reverse lookup on a phone number. (site available in French & English)
| | |
| --- | --- |
| Nominate A Site – Submit An Article! | |
Communications in France
Do you know of a great web page we should list here, on the topic of French communications or media? If so, please submit it!
Are you an author, educator, student or traveler who would like to write an article for the enjoyment of our francophile community? Please download our author's guidelines (48K PDF). Thank you!
---
Content edited by Ian C. Mills.
Sources: (1.) Destination Guides © Rough Guides Ltd as trustee for its authors. Published by Rough Guides. All rights reserved. The Rough Guides name is a trademark of Rough Guides Ltd. Content reproduced here is licensed through Discover France's affiliation with certain travel providers. (2.) CIA World Factbook – France. (3.) Wikipedia – the Free Encyclopedia. (4.) Google-Watch. (5.) France Télécom. (6.) Égide Agency for International Mobility.
Images: Red phone booth and free-standing pay phone, from Plastiques Industries de la Loire (PIL). Télécarte with Polynesian island graphics, from France Télécom. All Rights Reserved.
---