The French enjoy 11 national jours feriés (holidays) annually. The civic calendar was first instituted in 1582; Bastille Day was incorporated in 1789, Armistice Day in 1918, Labor Day in 1935, and Victory Day in 1945. During the month of May, there is a holiday nearly every week, so be prepared for stores, banks and museums to shut their doors for days at a time. It is a good idea to call museums, restaurants and hotels in advance to make sure they will be open.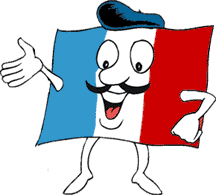 Trains and roads near major cities tend to get busy around the national holidays. Not coincidentally, this also happens to be the time when service unions (such as transporters, railroad workers, etc.) like to go on strike – something of a tradition, in fact. Travelers would do well to check ahead, particularly when planning a trip for the last week of June or first week of July!
There are also many regional festivals throughout France which are not included in our calendar. ViaFrance hosts an excellent site which lists fairs and festivals, traditional ceremonies, as well as sporting events, concerts, and trade shows for all regions throughout France. Use the interactive search form below to choose a region and range of dates for a listing of special events, to help plan your itinerary.
Under the law, every French citizen is entitled to 5 weeks of vacation. Most of the natives take their summer vacations in July or August, and many major businesses are then closed. All of France takes to the roads, railroads, boats, and airways. Consequently, traveling in France during August is generally not recommended for foreigners.
Public Holidays
| | |
| --- | --- |
| 1 January | New Year's Day (Jour de l'an) |
| 1 May | Labor Day (Fête du Travail; Fête du premier mai) |
| 8 May | WWII Victory Day (Fête de la Victoire 1945; Fête du huitième mai) |
| 14 July | Bastille Day (Fête nationale) |
| 15 August | Assumption of the Blessed Virgin Mary (Assomption) |
| 1 November | All Saints Day (La Toussaint) |
| 11 November | Armistice Day (Jour d'armistice) |
| 25 December | Christmas Day (Noël) |
| 26 December | 2nd Day of Christmas (in Alsace and Lorraine only) |
Moveable Feasts
Religion: Christian (Western)
| Feast | 2015 | 2016 | 2017 | 2018 | 2019 | 2020 |
| --- | --- | --- | --- | --- | --- | --- |
| Good Friday* | 3 April | 25 March | 14 April | 30 March | 19 April | 10 April |
| Easter (Pâques) | 5 April | 27 March | 16 April | 1 April | 21 April | 12 April |
| Easter Monday | 6 April | 28 March | 17 April | 2 April | 22 April | 13 April |
| Ascension (l'Ascencion) | 14 May | 5 May | 25 May | 10 May | 30 May | 21 May |
| Pentecost (la Pentecôte) | 24 May | 15 May | 4 June | 20 May | 9 June | 31 May |
| Whit Monday | 25 May | 16 May | 5 June | 21 May | 10 June | 1 June |
Footnotes:
*In Alsace and Lorraine only.
In years when Ascension Day concurs with Victory Day, we mark only the former, thus ignoring the latter.
Metal workers have the holiday of St. Eloi, July 24 (Festival of St. Eloi - French Basque).
When a holiday happens to fall on a Tuesday or Thursday, many French workers may take the Monday or, respectively, Friday, off as well. This is not official and does not apply to institutions such as banks or government, but is sufficiently commonplace to cause difficulties doing business on occasion.
Fête du Travail
The first day of May is known in France as the Fête du Travail (Labor Day). It was originally named the Fête du Travail et de la Concorde Sociale (a day to celebrate work and social harmony) by Maréchal Pétain on 27 April 1941, during the Vichy regime. A later measure taken by the post-WW2 liberation government in 1947 established it as a legally required paid holiday for all French employees.
Traditionally a day on which trade unions stage labor protests in large cities, it is also called la fête du muguet[1] (Lily-of-the-Valley Day), when it is customary to exchange these flowers for good luck. The French government permits individuals and workers' organizations to sell them tax-free.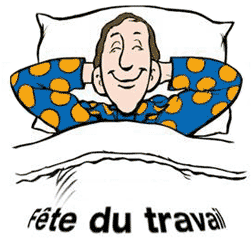 Historical Origins
The earliest May Day celebrations appeared in pre-Christian times, with the festival of Flora, the Roman goddess of flowers, and the Walpurgis Night celebrations of the Germanic countries; it is also associated with the Gaelic Beltane.
Although many pagan celebrations were abandoned or Christianized during the process of conversion in Europe, a Neopagan movement began reconstructing the old traditions of celebrating May Day as a pagan religious festival starting in the 20th century.
The Institution in France
On 24 October 1793, in his report on the calendar presented to the Convention, Fabre d'Églantine proposed the institution of a Jour du Travail holiday. The date was set to the 1st day of pluviôse[2] (fifth month of the French Republican calendar) by Louis Antoine Léon de Saint-Just, who had been a military and political leader during the French Revolution.
On 27 April 1848, the provisional government of the French Second Republic decreed a public fête du Travail holiday to be celebrated annually on March 4th, in observance of the date that slavery was abolished in France and the Colonies.
Journée internationale des travailleurs (International Workers Day)
A Marxist theorist, philosopher, economist and revolutionary socialist, Rosa Luxemburg (b. 5 March 1871, d. 15 January 1919) has said that the proletarian struggle for an eight-hour work day started in Australia, where workers staged a massive strike on 21 April 1856. The labor movement was so successful that it eventually spread to other countries, including the United States.
Under pressure from American labor unions, an estimated 300,000 workers marched on 1 May 1886 in numerous U.S. cities, demanding the right to work an eight-hour day. The movement turned violent on 4 May 1886 at Haymarket Square in Chicago, resulting in the deaths of seven police officers and at least four civilians, injuring scores of others.
Three years later, in accordance with a proposition by the workers' advocate Raymond Lavigne[3], le Congrès international socialiste[4] (the International Socialist Congress) in Paris adopted the 1st of May as "International Workers Day" and began their own campaign for an eight-hour work day.
The labor struggle in France would prove fatal, for both demonstrators and innocent bystanders alike, on 1 May 1891 in the small textile village of Fourmies, near the Belgian border in the Nord department. On this day, the government dispatched two infantry companies (the 84th & 145th) to suppress a peaceful demonstration.
Soldiers fired their new Lebel rifles on a crowd of several hundred, killing 9 and wounding 35 – all in a matter of 45 seconds. A number of the victims were not even participating in the demonstration. Eight of the dead were under the age of 21 – including 18-year-old Maria Blondeau, whose martyrdom became something of a symbol for the cause.[5]
On 23 April 1919, the French Senate sanctioned an eight-hour work day and decreed May 1st to be a public holiday. It has since remained an international day of workers' demands, resulting in widespread labor demonstrations throughout the world.
May 1 is now a national holiday in more than 80 countries and is celebrated unofficially in many other places. (Canada and the U.S. celebrate Labor Day on the first Monday of September.)
[1] On May 1, 1561, King Charles IX of France received a lily-of-the-valley as a lucky charm. He decided to offer the flowers each year to the ladies of the court. At the beginning of the 20th century, it became custom to give a sprig of lily-of-the-valley, a symbol of springtime, on May 1. Nowadays, people may present loved ones either with bunches of lily-of-the-valley or dog rose flowers.
[2] The 1st day of pluviôse (French Republican calendar) translates to 20 January 1795 in our modern-day (Gregorian) calendar.
[3] Raymond Lavigne (1851-1930) was a trade unionist and militant socialist from Bordeaux, who harbored Marxist sentiments. He created underground unions before an 1884 French law permitted unions for the first time.
[4] The convention, also called Congrès de l'Internationale Ouvrière or IIe Internationale, took place at 42, rue Rochechouart (Paris 9e), salle des Fantaisies-Parisiennes (today's rock club, La Manufacture)
[5] A monument to the tragic event is located in the former place de la Mairie. On it are inscribed these words: 'Neuf travailleurs en grève pour leurs justes revendications furent tués sur cette place au cours de la fusillade du 1er mai 1891'. The Écomusée de l'Avesnois (Place Maria Blondeau, 59610 Fourmies) offers an exhibit about the event. In his 1892 book Le secret de Fourmies... (page 33), author Édouard Drumont (1844-1917) provides a graphic portrayal of Mlle Blondeau's condition after being shot.
Other Special Celebrations (non-national holidays)
Epiphany – Fête des Rois
On Epiphany (the first Sunday after January 1), many families in Provence follow a tradition of eating the gâteau des Rois – or the galette des Rois in the northern half of France and Belgium. This is a kind of king cake, with a trinket – usually a porcelain or plastic figurine of a king, or a fava bean (la fève) – hidden inside. A lucky person who gets the piece of cake containing the trinket is crowned King (or Queen) for a day.
The cakes can be found in most French bakeries during the month of January, and are accompanied by a paper crown. The galette consists of flaky puff pastry layers with a dense center of frangipane (made from or flavored like almonds), while the provençale gâteau is a crown-shaped brioche with candied fruits (fruits confits).
Mother's Day – Fête des Mères
Mother's Day is observed annually by both children and adults to honor their mothers. The first historical evidence of this commemoration can be traced to ancient Greece (circa 6th century BCE), when there were spring festivals honoring the mother-goddess Cybele, or her Minoan equivalent Rhea.
In ancient Roman religion (circa 3rd century BCE), the Matronalia – or Matronales Feriae – was a festival celebrating Juno Lucina, the goddess of childbirth, motherhood and women in general. It was observed on the first day of March, according to the Roman calendar. Women received gifts from their husbands and daughters; husbands were expected to offer prayers for their wives.
The English instituted a Christian festival known as Mothering Sunday (fourth Sunday in Lent) during the 16th century AD – a tradition which still survives today. Historians say that Napoleon Bonaparte proposed a French Fête des Mères as early as the spring of 1806, but the idea was not adopted for another century.
In France, where officials were alarmed by low birth rates, there had been attempts in 1896 and 1904 to introduce a national celebration honoring the mothers of large families. On 10 June 1906, two mothers who had 9 children each were given an award for "High Maternal Merit" (fr. Haut mérite maternel) in the village of Artas (department of Isère, Rhône-Alpes). The original diploma, created by educator Prosper Roche of Artas, is preserved in the library archives at the Institut de France in Paris.
During World War I, American soldiers fighting in France popularized the U.S. holiday created by Ann Jarvis; they sent so much mail back to their country for Mother's Day that the Union Franco-Américaine created a postal card for that purpose.
In 1918, also inspired by Jarvis, the town of Lyon celebrated a Journée des Mères honoring mothers and spouses whose sons or husbands had been lost in the war. In 1920, it came to be called Journée Nationale des Mères de familles nombreuses – dedicated more to anti-depopulation efforts than the U.S. holiday.
The French government declared the day official in 1929, annually awarding the Médaille de la Famille française to mothers of large families.
In 1941, by initiative of Marshal Philippe Pétain, the wartime Vichy government placed the day on the national calendar, using the celebration as part of their policy to encourage population growth – but all mothers were now being honored, even those with smaller families.
Following World War II, the annual tribute received a legislative proclamation. The law of 24 May 1950 required that the French Republic pay official homage to mothers on the last Sunday in May as the Fête des Mères (except when Pentecost fell on that day, in which case it was moved to the first Sunday in June).
During the 1950s, the festive custom lost all its patriotic and natalist ideologies, and became heavily commercialized. In 1956, the celebration was given a budget and integrated into the new Code de l'action sociale et des familles, overseen by the Ministre de la Santé (ministry of health). In 2004, responsibility for observances was transferred to the Ministre des Familles (ministry of families)*.
To convey their sentiments, French children have customarily offered gifts to their mothers, preparing specially decorated cakes or handmade objects such as the traditional "noodle necklace" (fr. collier de nouilles) which is created in school. The purpose is to offer something with love and tenderness.
* As of 16 May 2012, Dominique Bertinotti holds the position of Ministre des Familles, appointed by the Prime Minister (Jean-Marc Ayrault).
April 1 – le poisson d'avril
April 1st is a day of pranks and practical jokes across the world, and every year in France, many unsuspecting victims spend the day with a "poisson d'avril" (a paper fish) taped to their backs.
The story goes that up until 1564, the new year began on April 1st, to coincide with the celebration of the Annunciation of Mary. In that year, however, King Charles IX of France signed the Edict of Roussillon – changing the new year to January 1st, to coincide with the lengthening of days. Since transportation was still fairly unreliable and news traveled slowly in those days, it took a while for people to catch on in the provinces outside of Paris, and they continued to exchange gifts on April 1st. To have a little fun, those who were in-the-know would sometimes exchange "presents" of a different sort entirely.
The origins of the "April Fish" aren't exactly clear; some versions say it was due to the fact that fishing was forbidden at that time, since it was the mating season, and some link it to the celebration of Easter, when fish was commonly eaten instead of meat, and the giving of fake fish was considered a good prank.
Whatever the case may be, watch out for a poisson d'avril if you're in France on April 1st!
All of French society participates in this tradition, including the media. Both television personalities and the printed press will deliver fake news stories, then announce a retraction on the following day.
Editing, translation, and portions written by Ian C. Mills © 1999- – All Rights Reserved.
Bibliography: French Government Tourist Office, New York. Jours fériés on dateducalendrier.com. Fodor's France, published in the U.S. by Fodor's Travel Publications, Inc. and distributed by Random House, Inc., New York. Religious holidays (moveable feasts) from Universalis – Our Lady of Sorrows. Fête du Travail description based on data from France.fr, "The official website of France"; Genealexis, Histoires d'hier et d'aujourd'hui; Historique du 1er mai; and an excerpt of Rosa Luxemburg's 1894 writing reproduced on Critique Sociale. Footnote about the origins of la fête du muguet dating to the reign of King Charles IX, and other holiday references, from Wikipedia, the free encyclopedia. Yearly calendars from Steffen Thorsen's Time and Date AS, Stavanger, Norway. Paris Monterrey, a blog by Nathalie Maguérès.
Images: Cover of Le Petit Parisien, 17 May 1891, depicting the massacre at Fourmies, artist: Ernest Clair-Guyot (1886?-1938), based on photographs by Louis Perron taken on the day of the tragic events in Fourmies, from Wikimedia Commons. The Scuffle at Clichy, 1 May 1891, artist unknown, from Wikimedia Commons. A portrait of Maria Blondeau, one of nine killed on 1 May 1891 at Fourmies, artist unknown, from Page personnelle d'Alain Delfosse. Traditional galette des rois, photographer: Marika Sorgenfrei aka roseric, from Center Blog. A multi-colored noodle necklace for Mother's Day in France, Loïc Fassard (photographer), from a blog by Loïc Fassard. A multi-colored noodle necklace for Mother's Day in France, photographer unknown, from the blog Frikadel & Co.. An intricate noodle necklace for Mother's Day in France, Agnès Propeck (photographer), from the blog Carnets d'une Marraine. An unwitting victim of poisson d'avril, photographer unknown, from whyGo France. French April Fool's Day postcard, dating to early 20th century, from Wikimedia Commons. Cartoon depicting a victim of poisson d'avril, Patrick Châtelain (artist), from Paris Monterrey. Cartoon depicting a victim of poisson d'avril, artist unkown, from Paris Monterrey. No fish allowed – except on a leash, photographer unknown, from Paris Monterrey. All Rights Reserved.
Conducting a search for events is easy with this form. Simply choose a category (or ALL) and a range of dates; this is required or the form will not be processed. Important: observe French convention of day/month/year, i.e.: DD/MM/YYYY.

Your search can encompass all of France, or you can narrow it down to a region (suggested). Selecting a province will display events for all departments within that region. (If you select a department, it is not necessary to select the province.) To search for events by city or town, please pay attention to spelling! Keywords (such as "jazz", "dance", etc.) are optional. If your search yields no results, expand your search criteria and try again.

Clicking "Search" will open a new browser window above this one. When finished viewing ViaFrance event listings, close that window to return to this document.

French Festival & Holiday Links
Calendrier Scolaire
The French Ministry of Education maintains this handy web site which lists all the school holidays and vacations for every region of France – including overseas territories – for the current academic year and the next three years. (in French only)
Christmas Traditions in France & Canada
A team of several dozen individuals has assembled this wonderful resource, which follows the development of French holiday traditions over the centuries, and explores how many of these customs were imported to the new world.
Festivals & Special Events
Courtesy of ViaFrance, you can browse our calendar of upcoming special events, arranged by province – including conferences, exhibits, theatrical performances, regional culture, fairs & festivals, religious celebrations, sporting competitions, and much more.
Francophone Holidays & Traditions
"TBob" – Robert Peckham of the University of Tennessee at Martin's French Dept. faculty, has assembled this collection of links to sites on French leisure, festivals, and religious celebrations.
Glossary of Holiday Traditions
Marie-J. Ponterio at SUNY/Cortland presents an illustrated guide to French traditional celebrations, how they are observed and what to wish someone on a particular holiday. (in French only)
Nice/Côte d'Azur: Fêtes et Traditions
The Festival of Saint Peter, patron saint of fishermen, and the Festival of Saint John, celebrating the longest day of the year, are examples of the many folkloric traditions observed in this part of France. (in French only)
Noël en Provence
Provençal folklore is reflected in certain Christmas holiday traditions which are unique to this area, including regional dishes and santons figurines. (in French only)
Send Holiday Greetings
Yahoo! France lets you choose from hundreds of e-postcards to send your friends, family, and colleagues a colorful, musical greeting for almost any holiday.
Yahoo! France – Links to French Holidays
Yahoo! France boasts hundreds of links to French web sites about les jours feriés.

Suggested Reading & Music
Babar à la Fête de Celesteville
by Laurent de Brunhoff. Reading level: Ages 4-8. Hardcover, published in January 2000 by Hachette. Not rated.
Chants de Noël (Music CD)
Features 18 traditional French Christmas songs, by various artists. Released September, 1998 by Empire Records. Not rated.
Christmas in France (Christmas Around the World)
by Kristen Thoennes. Hardcover, published in January 1999 by Hilltop Books. Rated 4 stars by readers.
Christmas in France
by Corinne Madden Ross. Hardcover, published by McGraw-Hill/Contemporary Books. Rated 4 stars by readers.
Gallantry: Dizaine des Fêtes Galantes
by James Branch Cabell, Louis Untermeyer (Introduction). Paperback, published in October 2001 by Wildside Press. Not rated.
Noëls de France (Music CD)
Features 19 traditional French Christmas songs, including several which are endemic to the regions of Auvergne and Provence. Released in May 2000 by Arion. Not rated.
On the Road Around Normandy, Brittany and the Loire Valley:
Driving Holidays in Northern France
by Roger Thomas and Lucy Koserski (Editors). Paperback, published by McGraw-Hill/Contemporary Books. Rated 5 stars by readers.
Vacances: The Ardèche – Activity and Leisure Holiday Guides
Paperback, published in August 2002 by Hachette Livre Direction Paris. Not rated.
Vie de France: Sharing Food, Friendship, and a Kitchen in the Loire Valley
by James Haller. Paperback, reissued in June 2003 by Berkley Publ. Grp. Rated 5 stars by readers.

Nominate A Site – Submit An Article!
French Festivals & Holidays
Do you know about a great French festival or holiday site we should list here? If so, please submit it!
Are you an author, educator, student or traveler who would like to write an article for the enjoyment of our francophile community? Please download our author's guidelines (48K PDF). Thank you!