French post offices (bureaux de poste or PTTs) – look for bright yellow La Poste signs – are generally open 9:00 a.m. to 7:00 p.m. Monday to Friday, and 9:00 a.m. to noon on Saturday. However, don't depend on these hours: in smaller towns and villages offices may close earlier and for lunch, while in Paris the main post office is open 24 hours. Avoid lunch hours and late afternoon, when office workers dealing with business mail create endless lines.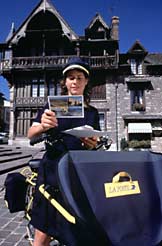 A French postal carrier
delivering mail by bicycle.
(click on image to
see different version)
© 2004 La Poste
All Rights Reserved.
France has the most concentrated postal network in Europe, comprising 17,082 public outlets; 5,632 of these are in partnership with other businesses, known as Agences Postales (postal agencies) or Relais Poste (postal intermediaries). In smaller villages, for example, it would not be unusual to find such services offered in a bakery or other private enterprise. 90% of French people live less than 5 km from a public outlet.
All locations are listed in the phone book, under Administration des PTT in the Yellow Pages, and Poste in the White Pages. One can also search for a location online, by postal code or town. (Results will display the address, phone number, hours of operation, automated services, disabled access, and a street map.)
General Delivery Service
You can receive mail at the central post offices of most towns. It should be addressed (preferably with the surname first and in capitals) "Poste Restante, Poste Centrale", followed by the name of the town and its postal code. To collect your mail you will need a passport or other convincing ID, and there may be a charge of around a euro or less. You should ask for all your names to be checked, as filing systems are not brilliant.
Postal Codes in France
An essential part of all addresses in France is the five-digit postal code that identifies the commune. The postal code immediately precedes the name of the town or village, on the last line of the address for all mail within France. The first two digits of the postal code indicate the number of the département; and the last three digits identify the commune.
Some communes are so small that they share the same code with one or more others. For example, 31620 is the postal code for nine different villages – including Fronton and Labastide Saint-Sernin – in département number 31, i.e. Haute-Garonne. (Click here to search for a postal code by town name.)
For large cities with arrondissements (Paris, Lyon and Marseille), the last two digits of the postal code indicate the arrondissement; for example: 75009 PARIS means "Paris, 9ème arrondissement".

Postage Rates, Buying Stamps
For sending letters, remember that you can buy stamps (timbres) with less queuing from tabacs (tobacco shops). Though many of the tabacs also sell postcards, the choice is limited; for a better selection of more unusual cards, try the Pompidou Center or the Latin Quarter (especially rue Saint André des Arts). Writing paper and envelopes may be purchased in papeteries (stationers), but most supermarkets offer the same at a much lower price.

A standard first-class letter (20g or less, Lettre Verte) or postcard sent within France costs €0.58, or €0.63 by priority mail; to continental European countries (from Scandinavia to Portugal), Baltic states, Greece, and the British Isles €0.80; to other European or Eurasian countries (Iceland, Russia, etc.), Africa, the Americas, Asia, and Oceania (Australia, New Zealand) €0.95. (Refer to calculator for other countries, and/or weights above 20g.)
Inside many post offices you will find a row of yellow-colored guichets automatiques – automatic postage machines with instructions available in English, where you can weigh packages and buy the appropriate stamps; sticky labels and tape are also dispensed. A machine can change notes into coins, so there is no need to queue for counter service.

If you're sending parcels abroad, you can try to check prices on the guichet or in various leaflets available. Small post offices don't often send foreign mail and may need reminding, for example, of the discounts for sending printed papers and books.
Other Services
At post offices you can also conduct your banking, change money, apply for credit, and receive fee-free financial services (see La Banque Postale), buy insurance, obtain photocopies, send faxes (télécopies) and make phone calls. To mail your letter on the street, look for the bright yellow postboxes.
Central Post Offices in Paris
In Paris, the central post and sorting office of the Louvre is open 24 hours a day, but at night this is only for sending mail, poste restante (general delivery), telephones and telegrams.
PTT, 52 rue du Louvre, 75001
Phone: 01.40.28.20.00; Métro: Louvre
Other central locations:
PTT Paris Archives – 67, rue des Archives, 75003
PTT Hôtel de Ville – 9, place de l'Hôtel de Ville, 75004
PTT Paris Bastille – 12, rue Castex, 75004
PTT Paris Sorbonne – 13, rue Cujas, 75005
PTT Paris St-Germain-des-Prés – 53, rue de Rennes, 75006
PTT Paris Pigalle – 47, boulevard de Clichy, 75009
PTT Paris Champs-Elysées – 71, avenue des Champs-Elysées, 75008

Related Links
Collectible Stamps
Stamp collectors will find more than 300 products in La Poste's Boutique Web du Timbre (Web Stamp Shop). Some stamps, such as the very popular TAAF issues, may only be mailed from their respective (overseas) regions.
Find A Post Office
Easy to use form allows one to search for any post office in France, by postal code or town. In the resulting list, click on the desired location's link to see a map, hours of operation (including holidays), and available services.
How To Prepare Your Package
If you are planning to mail home some of your purchases while in France (what, no room in the suitcase?), or perhaps wish to send loved ones a gift, it helps to know these packaging tips, tricks and postal regulations – such as maximum weights, dimensions, and labeling.
Le Musée de la Poste
An online museum showcasing the history of the French postal system over the ages – including artifacts, antique mail delivery vehicles, stamps, and much more. (site in French only)
Postal Codes Database
Search for the postal codes of more than 40,000 communities in metropolitan France and overseas departments. You can also find the name of a town by its postal code (excluding military and CEDEX numbers). Both English & French versions available.
Postal Glossary
What is an "accusé de reception"? What does "port payé" mean? This postal glossary provides translations for commonly used mail-related terms, either French-English or English-French.
Track A Parcel Delivery
Track your Colissimo or Chronopost parcel sent through the post office (La Poste). If sent through an alternative carrier, such as Fedex or UPS (United Parcel Service), you should visit the appropriate web site. Both the tracking number and web site address are usually indicated on your shipping receipt.

Nominate A Site — Submit An Article!
Postal System of France
Do you know of a great web page we should list here? If so, please submit it!
Are you an author, educator, student or traveler who would like to write an article for the enjoyment of our francophile community? Please download our author's guidelines (48K PDF). Thank you!
GO TO NEXT PAGE » Communications in France
Editing and portions written by Ian C. Mills © 2001-. All Rights Reserved.
Sources: (1.) Destination Guides © Rough Guides Ltd as trustee for its authors. Published by Rough Guides. All rights reserved. The Rough Guides name is a trademark of Rough Guides Ltd. Content reproduced here is licensed through Discover France's affiliation with certain travel providers. (2.) Égide Agency for International Mobility.
Images: Postal carriers delivering mail by bicycle, © 2004 André Tudéla - La Poste. Yellow mailbox on the street (in lightbox gallery), photographer unknown, from ô ce cours: le blog des habitants du cours d'Herbouville. Artistic graffiti adorns yellow French mailbox in local park (and) Artistic graffiti adorns yellow French mailbox (rear view) (both in lightbox gallery), Marie Briand (photographer), from Flickr (1 & 2). All Rights Reserved.