---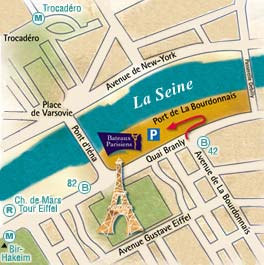 Bateaux Parisiens embarcation point,
just beside the Pont d'Iéna.
Bateaux Parisiens (operated by Sodexo)
Port de la Bourdonnais, 75007 Paris (near the Eiffel Tower, on the left bank)
Bir-Hakeim–Grenelle station (line 6); RER-C: Champs de Mars–Tour Eiffel station. Bus: lines 42, 82.
For information, call: 08-25-01-01-01 (€0.15/min.) – or make a reservation online.
Discover authentic Paris from a unique perspective
Information for all ages, combining history with Parisian news. An hour-long cruise along the Seine aboard unique boats. Throughout the cruise, a clear and lively commentary on individual handsets is accompanied by musical selections evoking the places and periods visited.
A cruise for every audience
The narration is available in 12 languages: French, English, German, Spanish, Italian, Portuguese, American, Chinese, Japanese, Russian, Polish, and Dutch. Each translation is adapted to the expectations of each nationality according to their cultural references.
A children's version (in French only) has been specially designed for children (8-14 years old). This version describes Paris in a playful and educational fashion.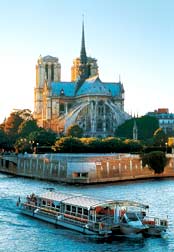 Bateaux Parisiens trimaran
tour boat passes the
Notre-Dame Cathedral on
Île de la Cité at sunset.
Photographer: Patrick Hamon
Your onboard crew includes: a hostess/guide, a sailor and a captain. The hostess cares for the passengers and occasionally takes the microphone, to add commentary about Parisian news (temporary exhibits, trade shows and festivals, specific events, etc.).
Each of the three trimarans is entirely glassed-in, with a 580-seat capacity, a terrace at the stern, and outside walkways – perfectly designed for exploring and admiring the architectural treasures of the capital. The vessels are named Jeanne Moreau, Catherine Deneuve and Isabelle Adjani (after their christeners).
Departures:
High Season (April through September)
Every 30 minutes from 10:00 a.m. to 10:00 p.m. (no departures at 1:00 & 7:30 p.m.);
June, July, & August: 10:00 a.m. to 11:00 p.m.; July 14 (Bastille Day) last cruise at 3:00 p.m.
Low Season (October through March)
At least hourly – and some every 30 minutes – from 10:30 a.m. to 9:30 p.m. (no departures at 1:00 & 7:30 p.m.);
French "Zone C" school holidays: 10:00 a.m. to 10.30 p.m.
Fares:
One-Hour Traditional Sightseeing Cruises (see description above)
Adults: €14/person ; Children (ages 3-11): €6/person ; Children (ages 0-2): free.
Advance tickets are available.
Proper attire for 1-hr. cruise: casual; shoes are required.
No animals, please.
Click here to see a route map.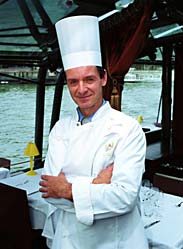 Chef Yves Gras
Dinner Cruises
Refined décor and tableware, the intimacy of small tables by the windows and the liveliness of the dance floor form the ingredients for a wonderful evening. With a menu combining tradition and creativity, the dishes are prepared on board under the supervision of Yves Gras and his chefs. (see menu)
Dates: Every day of the year except January 1.
Boarding 7:00 - 8:15 p.m.; departure 8:30 p.m.; return to the dock 11:00 p.m.
Four price ranges, according to service levels:
Service Étoile – €99 per person*
Service Elégance – €135 per person*
Service Privilège – €165 per person*
Service Premier – €205 per person*
Reservations are mandatory for lunch & dinner cruises.
Private dinner: please call for an estimate: 08-25-01-01-01 (€0.15/min.).
Proper attire required: smart casual or dressy. No jeans, trainers, or sports shoes allowed on meal cruises.
It is advised to not bring children on the dinner cruise.
Click here to see a route map.
*Prices include cruise, meal, drinks, entertainment, taxes and gratuity. All boats are non-smoking. Cloak room available.
Private & Corporate Affairs
Bateaux Parisiens also offers five of its luxury yachts for private parties and corporate outings: Le Bretagne (maximum capacity: 104), Le Cristal II (max. cap. 480), Le Diamant (max. cap. 340), L'Onyx (max. cap. 240), and Le Symphonie (max. cap. 170).

The fleet of Bateaux Parisiens, Batobus, and Yachts de Paris cruise boats are owned and operated by Sodexo, a diversified international conglomerate which also has interests in institutional food and management services, food vouchering systems, and correctional facilities operations. In addition to Paris, Sodexo operates river cruises in Nantes (western France), London (U.K.), Boston, Chicago, New York, Norfolk, Philadelphia, Richmond, and Seattle, WA (U.S.). Over 4 million passengers per year are treated to entertainment and fine dining on Sodexo's fleet of nearly 50 boats.
---

Batobus
Compagnie des Batobus
Port de la Bourdonnais, 75007 Paris
(descend stairs at corner of Pont d'Iéna)
Phone: 01-44-11-33-99; Fax: 01-45-56-07-88.
Bir-Hakeim (line 6), Trocadéro (line 9); RER-C: Champs de Mars–Tour Eiffel station.
River Boat Shuttle Service
In 1989, for the bicentennial anniversary of the French Revolution, the Municipality of Paris and the Ministry of Transportation decided to relaunch a motorboat bus line, giving Le Port Autonome de Paris (Paris' harbor authority) the responsibility for inviting bids and tenders to run the service. Bateaux Parisiens, a wholly-owned subsidiary of Sodexho Alliance, has won the contracts ever since.
Batobus provides motorboat service to eight stops along the Seine, which residents and tourists alike can use to reach Paris' most visited attractions. The boats stop close to: Eiffel Tower, Orsay Museum, Notre-Dame, Centre Pompidou, the Louvre.... and many more places of interest. The Batobus crew will be happy to advise visitors on notable places to visit.
More than a simple means of transport, Batobus is an interesting way to discover Paris and the Seine River – providing a fantastic view along the banks, with a glass roof and an open rear deck. Each of the eight trimarans making up the fleet seats 150-200. Bicycles can be stowed in the front.
There is a boat departing from each wharf every 20 minutes in summer (30 minutes during off-season). So, if you want to avoid the subway and enjoy a pleasant cruise, catch a Batobus!
The eight stops are as follows: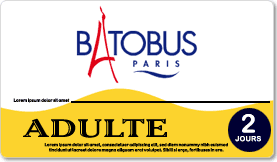 Service Schedule
Months of Operation
While it was once a seasonal operation, Batobus now runs all year long.
Daily Hours
3 September - 5 April: 10:00 a.m. - 7:00 p.m. daily.
6 April - 2 September: 10:00 a.m. - 9:30 p.m. daily.
Fares
Armed with a Batobus pass, you can get on and off the boat an unlimited number of times for the length of validity you choose. (Batobus no longer offers single tickets for specific one-way stops along the route.)
| | | | |
| --- | --- | --- | --- |
| FARES | Adults | Children (1) | Privilège (2) |
| 1 day | 15 € | 7 € | 9 € |
| 2 days | 18 € | 9 € | 12 € |
| Annual | 60 € | 38 € | N/A |
(1) Children = less than 16 years of age.
(2) Privilège rates apply to holders of: Student ID, ISIC card, and
RATP Passes (Imagine R, NaviGo, Intégrale, Améthyste, Émeraude).
Where can you buy your Batobus pass?
purchase online before you leave home; or, once you are in Paris:
at any of the Batobus stops;
at the Paris Tourist Office (Pyramides);
at three train stations: Gare de l'Est, Gare de Lyon, Gare du Nord;
at CDG Airport: Terminals 1 & 2;
at the "Paris l'Open Tour" shop (13, rue Auber, 9e).
Other offers
Another popular deal is the unlimited L'Opentour double-decker tour bus pass, with 50 stops on four different routes through Paris. The open-air upper deck offers a nice breeze and great views on a warm day.
If you plan to visit more than one museum during your stay, consider purchasing a Paris Pass, which entitles you to unlimited admissions at more than 65 museums, monuments, and castles in the Paris region – with no waiting in line! The same pass also allows unlimited travel on public transportation in the Paris region – on buses, métro, RER (express rail), tramways, and the Montmartre funicular.
---
Next page >> CroisiEurope