---
La Marina de Bercy / Paris
Postal address: Port de Bercy, 75012 Paris
For information, call 01.43.43.40.30 or make a reservation online.
Behold the architectural wonders of Paris, and treat yourself to a most romantic Valentine's Day (or any other special occasion) with your loved one. Enjoy a dinner cruise that takes you from the Eiffel Tower to Notre Dame Cathedral, passing beneath the Pont Alexandre III and other magnificent bridges along the way.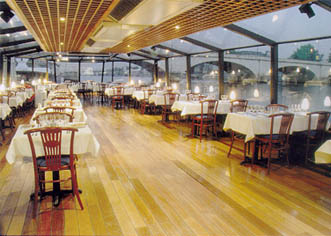 Le Grand Pavois offers elegant dining with a
grand view of Paris architecture passing by.
For the occasion, chef Alain Guyon has developed a savory menu to please the most refined palate, while our pianist provides a relaxing musical accompaniment.
La Marina de Bercy / Paris operates a fleet of three comfortable restaurant boats, with capacities ranging from 32 to 239 passengers for an intimate atmosphere. They are: Le Grand Pavois (239 pax), Le Vert Galant (96 pax), and Le Rocca IV (32 pax). Cruise rates include a leisurely 2- to 2¼-hour excursion, meal and drinks. (A selection of wines is optionally available. Champagne and various drinks are for sale on board.)
Advance reservations are required for all dinner cruises. Suitable dinner attire is expected (no jeans, shorts or running clothes, please). Availability: every evening of the year except May 1, June 21, July 14, Nov. 1, Dec. 24 & 31.
You may select from three different cruise packages, such as (1.) a dinner cruise, with round-trip air-conditioned minivan transport between your hotel (within Paris 75001-75020) and the boat dock; (2.) a dinner cruise, with round-trip air-conditioned coach transport from (and return to) 2, place des Pyramides, Paris 1er; or (3.) a dinner cruise followed by a cabaret show at the famous Moulin Rouge (including a ½-bottle of champagne per person at the show) with all transport provided from — and return to — your Paris hotel via air-conditioned minivan, for a 6-hour evening of pampered entertainment!
Lunch Cruise* (see menu)
Board 12:15 p.m., depart 12:30 p.m., return 2:30 p.m. Rate: €53 per person (child menu <12 years €40).
*Only available Fridays, Saturdays & Sundays.

Dinner Cruise + round-trip minivan transport <-> hotel (see menus)
4 hours. Rate: (see reservations form).
Depart 8:00 p.m. from your hotel, return at approx. midnight.
Dinner Cruise + round-trip coach transport <-> 2, place des Pyramides (see menus)
2 - 2½ hours. Rate: (see reservations form).
Depart 8:30 p.m. from 2, place des Pyramides, return between 10:30-11 p.m.
Dinner Cruise + Moulin Rouge show + round-trip minivan transport <-> hotel (see menus)
6 hours. Rate: (see reservations form).
Depart 5:45 p.m. from your hotel, return at 11:45 p.m.
Boat Dock Location
Port de Solférino (7th arrondissement, left bank), Quai Anatole France, next to the Passerelle Léopold-Sédar-Senghor (formerly Passerelle Solférino) and opposite the Musée d'Orsay entrance.
Solférino station (line 12); RER-C: Musée d'Orsay station. Bus: lines 24, 68, 69, Balabus. (see Google map)
---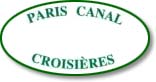 Paris Canal Croisières
19-21, quai de la Loire, 75019 Paris.
Métro: Jean Jaurès.
Phone: 01-42-40-96-97; Fax: 01-42-40-77-30.

Paris Canal Croisieres boat passing
by the Musée 'Orsay
Did you know that the Canal Saint-Martin, complete with its charming locks, provides another relaxing way to explore the city? Paris Canal Croisières operates every day from mid-March until mid-September, featuring an English-language commentary.
Offering an original and unexpected view of Paris, the Canal Saint Martin opens up perspectives of the old and relatively unknown city. A 2½-hour cruise brings you the best of both worlds: the grandeur of the Seine — offering views of the Tuileries Gardens, Notre Dame, the Louvre, the Ile St. Louis — together with the quiet intimacy of Napoleon's canals.
Your cruise starts at the Orsay museum, followed by a veritable parade of monuments: the Louvre, the Institute of France, the royal Sainte-Chapelle, Notre Dame Cathedral, and the Ile Saint Louis, before arriving at the entrance to the most romantic street in Paris... the canal Saint Martin.
It is also one of the longest: 3 miles of pure poetry! In its jade-colored water are reflected old swing bridges, half-moon footbridges, and the abundant foliage of horse-chestnut trees. Between the Place de la Bastille and La Villette in the northeast of Paris, the canal reveals a side of the city that tourists don't usually get to see.
Adventure beckons after the first lock of the canal: the boat is then swallowed up by the underground vault of the Bastille — a mile-and-a-half of cool mystery. After the tunnel, you will witness a dazzling world of locks, swing bridges, errant green-back ducks, stoic fishermen and tender lovers scattered along the quaysides. Nestled beyond a curtain of chestnut trees is the Hôtel du Nord, scene of the famous film starring Arletty and Louis Jouvet.
The canal climbs its way through a series of 19th-century locks and some enchanting old areas of Paris until it comes up to the Parc de la Villette, where the Science Museum, the Geode, the Music Museum and beautiful thematic gardens await you.
Hours of operation
Departure from Musée d'Orsay 9:30 a.m., arrive at Parc de la Villette 12:15 p.m.
Departure from Parc de la Villette 2:30 p.m., arrive at Musée d'Orsay 5:00 p.m.
Reservations are obligatory for all cruises.
Rates
Adults: €17 per person; Children (ages 4 to 11): €10 per person.
Young people (ages 12-25) and seniors (ages 61+): €14 per person — except Sunday afternoons and bank holidays.
---

Vedettes de Paris
Port de Suffren, 75007 Paris (next to the Eiffel Tower)
Phone: 01-44-18-08-03, 01-47-05-74-53; E-mail: comm@vedettesdeparis.com
Métro: Bir-Hakeim (line 6); RER: Champ de Mars (line C)
Bus: lines 44, 69, 82, 87 (Champ de Mars); lines 22, 30, 32, 63, 72 (Trocadéro)
Auto access from the Bir-Hakeim Bridge, Left Bank; large free car park reserved for passengers.
Access for pedestrians via the Iéna Bridge.
The company, Les Vedettes de Paris, founded in 1976, is today one of the main players in Paris river tourism. Since its creation, it has chosen to offer, from its ideally placed site at the foot of the Eiffel Tower, a selection of cruises on real boats with a human scale where a warm welcome and a relaxing atmosphere are the golden rule.
This is why we were the first to institute a quality department charter in 1997. Come and discover us — we will put Paris at your feet. Vedettes de Paris offers three boats for your pleasure: Ile de France, Belle Vallée, Louisiane Belle.
Schedule & Fares
Dinner Cruise:
Boarding at 8:00 p.m.
Departure at 8:30 p.m. from Port de Suffren (at the foot of the Eiffel Tower).
Return at 11:00 p.m.
Reservations required; call 01-44-18-19-50.
Fares: Adults €89 per person (without wine); Children (under age 12): € 45 per person. Special rates for groups.
Discovery Cruise:
Regular departures roughly every 30 minutes.
(April-October) - high season 10 a.m. - 10 p.m. on weekdays, 10 a.m. - 11 p.m. on weekends.
(October-March) - low season 11 a.m. - 7 p.m. on weekdays, 11 a.m. - 9 p.m. on weekends.
Fares: Adults €7,63, Children €3,05
Educational Cruise:
Special departures, preferably at 10:30 a.m. and 2:30 p.m. (recommended times). Call for details.
---

Les Vedettes du Pont-Neuf
Square du Vert Galant, 75001 Paris.
Phone: 01-46-33-98-38; Fax: 01-43-29-86-19; E-mail: info@vedettesdupontneuf.com
Métro: Pont-Neuf (line 7) or Louvre (line 1); RER: Châtelet or St-Michel; Bus: lines 27, 72, 74, 75, 58, 67, 70.
Parking: Palais de Justice or Louvre.
Les Vedettes du Pont-Neuf is one of the smaller tour boat companies in central Paris, operating a total of three boats:
Hydraseine, placed into operation 1980, capacity 350 passengers, length 38 meters (125 ft), width 6.8 meters (22.3 ft).
Europa, placed into operation 1989, capacity 350 passengers, length 37.5 meters (123 ft), width 7.7 meters (25.3 ft).
Parisis, placed into operation 1994, capacity 550 passengers, length 37.5 meters (123 ft), width 7.5 meters (24.6 ft).
The cruise starts at the Pont-Neuf and goes first to the Eiffel Tower. After a U-turn, the tour continues past Ile Saint-Louis and Notre Dame Cathedral. After one hour, the cruise ends at the Pont-Neuf.
Fares
(for an one hour cruise without stop): Adults - €10; Children (under 12 years) - €5.
Hours of Operation
Generally, hours are between 10:30 a.m. and 10:30 p.m. However, departure times vary according to the season. For an exact schedule, click here.
---
Yachts de Paris
Port Henri IV (in front of No 10 bis, Quai Henri IV), 75004 Paris.
Phone: 01-44-54-14-70; Fax: 01-44-54-14-75.
Started in 1993, the restaurant cruise line Yachts de Paris has enjoyed a period of steady growth and success, by catering to a discriminating clientele with an appreciation for quality, comfort and style.
Its founder Marc Bungener's vision was to "combine the spirit of yachting with the art of French living in the heart of the capital." The design of each boat in the fleet is inspired by luxury vessels in the post-war Riviera style, epitomizing the golden age of trans-Atlantic travel — crafted by leading French shipbuilders and offering the ultimate level of hospitality.
The fleet of eight boats, ranging in capacity from 12 to 800 passengers, offers unforgettable excursions on the River Seine, characterized by impeccable service and the cuisine of head chef Jean-Pierre Vigato — who is also the owner of L'Apicius, a 2-star Michelin-rated restaurant.
A selection of superb dinner cruises may be booked for any evening of the week by individuals or small groups (tables available for seating 2 to 12 guests). Advance reservations are required. (see the dinner menu)
Yachts may also be reserved for exclusive private cruises and corporate affairs. For breakfast, lunch, cocktails or dinner, Yachts de Paris can organize your cruise on board one of these elegant boats: Acte III (2 to 24 guests), Acajou (25 to 69 guests), Excellence (70 to 130 guests) and Le Paquebot (131 to 650 guests).

On 16 June 2006 it was announced that Sodexo had acquired a 90% ownership in Yachts de Paris. Founded in 1966 by Pierre Bellon, Sodexo is a world leader in Food and Facilities Management services, with more than 342,380 employees at 29,000 sites in 80 countries. Listed on the Euronext Paris exchange, with revenues of €13.6 billion (fiscal year 2008), Sodexo also operates the Bateaux Parisiens and Batobus lines in Paris, plus river cruises in Nantes (western France), London (U.K.), Boston, Chicago, New York, Norfolk, Philadelphia, Richmond, and Seattle, WA (U.S.).
Cruise Selections
Historic Paris Cruise
Cruise taking in the sights of Paris from Notre Dame to the Statue.
Duration: 1h45 to 2h30.
Grand Paris Cruise
The whole of Paris from east to west from the Parc de Saint-Cloud to Chinagora.
Duration: 3h30 to 4h30.
The 'Grandes Escales' Cruise
A private yacht takes you through the heart of Paris with scheduled stops to visit outstanding places of interest such as the Louvre Museum, Notre Dame Cathedral, the Orsay Museum, the André Citroën Gardens, etc.
Duration: half-day or full-day.
The Grand Stadium
Via the Seine and the St-Denis Canal to the Grand Stade de France.
Duration: from 2h to 3h30 depending on the point of embarkation.
Cruise Schedule
Individuals and small groups
Table reservation, 8.30 to 11.30 p.m. — Dinner cruise.
Groups (exclusive private use)
8:00 to 11:00 a.m. — Breakfast cruise
Noon to 3:00 p.m. — Lunch cruise
4:00 to 6:00 p.m. — Cocktail cruise
8:00 p.m. to midnight — Dinner cruise
8:00 a.m. to 5:00 p.m. — Day Seminar
All schedules can be modified to suit individual requirements
Boarding Location
The normal point of embarkation is at Port Henri IV (4th arrondissement, right bank), between the Pont de Sully and Pont d'Austerlitz, near the confluence of the Seine and Canal Saint-Martin. By special arrangement, cruises can depart from other key locations in Paris.
Sully-Morland (line 7) or Quai de la Rapée station (line 5). Bus: lines 67, 86, 87. (see Google map)
---
Next page >> Links