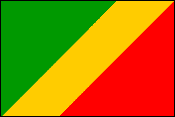 This flag dates from 1959, the year before the country's independence. It was reestablished in 1991. During the intervening years, the Congolese flag had symbols and colors (dominated by red) reflecting the country's socialist form of government.
The Republic of Congo — called Congo-Brazzaville to distinguish it from Congo-Kinshasa, the Democratic Republic of Congo (formerly Zaire) — is an independent state on the equator in western Africa (see map). It is bounded by the Central African Republic and Cameroon to the north, Congo-Kinshasa to the east, the Atlantic Ocean and Cabinda to the southwest, and Gabon to the west. Formerly a French colony, part of French Equatorial Africa, it became independent in 1960.
LAND AND RESOURCES
The country comprises five topographic regions: a narrow plain along the Atlantic coast; the adjoining Mayombé Highlands, with their rocky hills and valleys; the 320-km-wide (200-mi.) Niari River valley in the southwest; an area of plateaus and river valleys formed by the northern tributaries of the Congo River; and a floodplain formed by the western section of the Congo River basin in the northeast. The climate is tropical, with distinct rainy (November-April) and dry (May-October) seasons. Average annual temperatures range between 20° and 27° C (68° and 81° F). Rainfall is abundant — a minimum of 1,220 mm (48 in.) annually. Vegetation includes great stretches of tropical rain forest, coastal and swampy areas of mangrove trees and water grasses, and savanna grasslands.
PEOPLE
The people of Congo-Brazzaville belong to several ethnic groups, each with its own language. The Kongo people constitute more than 50% of the population. Other major groups include the Téké and the Sanga. There are also small minorities of Binga Pygmies and Europeans, mostly French who live in the cities. French is the official language; Lingala and Kituba, two patois dialects intelligible to most groups, are used widely as trade languages.
The population is about evenly divided between Christians and followers of traditional religions. Many traditional arts — sculpture, dancing, and oral literature — survive, but the colonial experience produced new cultural forms. A popular school of painting uses European techniques to express traditional themes; musical groups playing electric guitars and a fledgling recording industry have created a Brazzaville sound known throughout Equatorial Africa.
Compared to its neighbors, this is an urbanized country, with more than 60% of the population living in the five major cities — Brazzaville, Pointe-Noire, Nkayi, Mossendjo, and Loubomo. The southern third of the country contains 70% of the population, and this concentration has facilitated the development of education and medical services.
Before 1997, more than 90% of the children attended free, compulsory primary schools run by the state. Regional health centers augment large hospitals in Brazzaville and Pointe-Noire. Schools and health services were adversely affected by civil war in 1997. Subsequently, foreign oil companies operating in the country donated several million dollars to repair schools and rebuild Brazzaville's university and other structures in the city.
ECONOMIC ACTIVITY
Agriculture has traditionally employed the bulk of the labor force, although only 2% of the land is cultivated. Most farmers grow cassava (manioc), plantains, and other food crops on small plots for local consumption; cash crops (sugarcane, oil palms, coffee, and cacao) are cultivated on large holdings, many of which are state owned. About 60% of the country is forested. Timber was the leading export until the early 1970s, when it was surpassed by petroleum. It still provides about 6% of the gross domestic product, although there are mounting concerns about overlogging in the northern part of the country. In 1997 petroleum provided more than 60% of all export earnings. Oil revenues were used to finance development projects and to purchase raw materials and machinery for the nation's factories and foodstuffs and consumer goods for the growing urban population. After 1983, however, low world oil prices and a large foreign debt forced austerity measures. Congo-Brazzaville is one of the most industrialized nations in sub-Saharan Africa. Manufactures include timber and agricultural products, textiles, chemicals, and paper. Revenue from the petroleum and forestry industries continues to fuel an economic growth rate twice that of the national average for Africa despite the destruction caused by the 1997 civil war, which devastated Brazzaville and much of the nation's infrastructure. In 1998 the government established a new national oil company that, unlike its predecessor, would be responsible only for oil exploration and exploitation. The marketing and distribution of the nation's petroleum resources was to be privatized.
Although the climate and terrain make it difficult to build and maintain roads, the country's waterways and railroads are vital to Central Africa's transportation network. Waterways link the country with the Central African Republic, Congo-Kinshasa, and Chad; railroads join Brazzaville to Pointe-Noire and Gabon.
HISTORY AND GOVERNMENT
The southern region of Congo-Brazzaville formed part of the Kingdom of Kongo, a state that flourished during the 16th century. Its king received the first Portuguese expeditions and subsequently signed a cultural exchange treaty and welcomed missionaries. Slave trading by the Portuguese destroyed the state. In the late 19th century a French party led by Pierre Savorgnan de Brazza (for whom the capital is named) penetrated the area. In 1883 part of the area became a French protectorate, and in 1910 the Congo joined French Equatorial Africa (FEA), which, with its capital at Brazzaville, also included what is now Chad, the Central African Republic, and Gabon.
In 1960 the country won independence, and the FEA was dismantled. A labor uprising overturned the government in 1963, and in 1968 a military coup was staged. Congo-Brazzaville was declared a Communist state in 1969, although it maintained close economic ties with France and other Western European nations. From 1970 to 1991 the country was named the People's Republic of the Congo, and the Congo Labor party (PCT) was the sole political party. The legislature, the National People's Congress, was reestablished in 1979. Denis Sassou-Nguesso became party leader and president that year.
Late in 1990, after a wave of strikes, the PCT agreed to adopt multipartyism and abandon Marxism-Leninism as the state ideology. A constitution approved by voters in 1992 called for a directly elected president and a prime minister appointed by the president but responsible to an elected National Assembly. Pascal Lissouba defeated Sassou-Nguesso but failed to gain control of the National Assembly in elections later that year. After Lissouba's supporters won a narrow legislative majority in disputed new elections in 1993, ethnic and regional rivalries erupted into violence, threatening political stability. A new cabinet, headed by Prime Minister David Charles Ganao and including independents and opposition figures, was installed in September 1996. His cabinet, like the previous one, included several opposition members and independents.
In June 1997 long-simmering ethnic and regional rivalries erupted into civil war between forces loyal to Lissouba and to Sassou-Nguesso. On Oct. 15, 1997, after many foreigners had been evacuated due to the fighting, Sassou-Nguesso took control of Brazzaville, and Lissouba went into hiding. Sassou-Nguesso was sworn in as president on October 25. The new government promised that a referendum on a new constitution would be held in 1999, with legislative elections to take place within three years. New fighting between government forces and rebel militia loyal to Bernard Kolelas, who had served as Lissouba's prime minister, erupted in Brazzaville in December 1998, and sporadic violence continued into 1999. In November of that year the number of people displaced by the latest outbreak of fighting was estimated at more than 500,000. A new truce brokered by Gabonese president Omar Bongo that included a cease-fire and amnesty for rebels who turned in their weapons was signed by all factions in December 1999.
---
Dennis D. Cordell, Assistant Professor of History, Southern Methodist University, Dallas, Tex.
Source: 2001 Grolier Multimedia Encyclopedia, ©2000 Grolier Interactive Inc. — All Rights Reserved.
Bibliography: Samuel Decalo, et al., Historical Dictionary of Congo (1995). Ronald J. Harrison-Church, West Africa, 8th ed. (1980). Anthony Kirk-Greene and Daniel Bach, eds., State and Society in Francophone Africa since Independence (1995). Patrick Manning, Francophone Sub-Saharan Africa, 1880-1985 (1988; repr. 1989). Phyllis M. Martin, Leisure and Society in Colonial Brazzaville (1996).
Relevant publications: Janet MacGaffey and Rémy Bazenguissa-Ganga, Congo-Paris: Transnational Traders on the Margins of the Law (2000). Lynne Duke, Mandela, Mobutu, and Me: A Newswoman's African Journey (2003). Gary Stewart, Rumba on the River: A History of the Popular Music of the Two Congos (2000). Colin M. Turnbull, The Forest People (1987).
---
Appended Material
Information Highlights
| | |
| --- | --- |
| Total Area | (land and inland water) 132,000 square miles (342,000 sq km). |
| Boundaries | North, Cameroon and Central African Republic; east, Democratic Republic of the Congo; south, Democratic Republic of the Congo and Angola; west, Atlantic Ocean and Gabon. |
| Population | 4,574,099 (July 2013 est.). |
| Capital and Largest City | Brazzaville. |
| Major Languages | French (official), Monokutuba, Lingala, Kongo. |
| Major Religions | Indigenous local systems, Roman Catholicism, Islam. |
| | |
| --- | --- |
| Chad Links | |
Book A Hotel in Congo
Visitors to Congo will find quality accommodations at Le Méridien Brazzaville, located in a peaceful residential area not far from the lively city center. Enjoy the excellence of its restaurants, serving both French and African dishes. Visit the Discover France Travel Center, where you can check prices and availability for your travel dates, then book your stay online.
CIA World Factbook: Congo
Extensive statistics on the region's geography, people, government, economy, communications infrastructure, transportation, and military.
Current Time: Brazzaville, Congo
Is this a good time to call someone in Congo? Find out by checking the correct local time in the capital.
Deadly Bite of the Tsetse Fly
This CNN article examines the epidemic of "sleeping sickness" spread by the tsetse fly; the disease is reported to kill 250,000 to 300,000 people annually.
Disease Risk Analysis for Congo
Consult this valuable resource before traveling to Congo, to assess the relative risks of diseases such as African Sleeping Sickness, AIDS/HIV, cholera, Ebola virus, hepatitis, malaria, tuberculosis, typhoid and yellow fever, etc. Animal hazards include snakes (mambas, adders, vipers, cobras), centipedes, scorpions, and black widow spiders.
Foreign Entry Requirements
The Federal Consumer Information Center offers information on passport and visa requirements for Congo.
Living Languages of Congo
According to the Ethnologue, there are roughly 60 living languages and dialects spoken in Congo, though the predominant ones are Munukutuba, Lingala, Punu, and dialects of Teke. Despite being one of Congo's official languages, French is spoken by less than 2% of the population.
Open Directory Project: Congo
The non-profit, human-compiled database provides useful links about Congo, in both English and French.
Tips for Travelers to Subsaharan Africa
Check for current travel warnings, plus information about crime, health concerns (including required immunizations), weather, currency, and more.
| | |
| --- | --- |
| Nominate A Site! | |
French Colonies, Overseas Territories
Do you know about a great site we should list here? It can be devoted to any aspect of historical French colonization (people, places, events), or contemporary locations still administered by France — collectively known as DOM-TOM (for départements/territoires d'outre-mer). Please use our convenient Submission Form to send your suggestions!
Are you an author, educator, student or traveler who would like to write an article for the enjoyment of our francophile community? Please download our author's guidelines (48K PDF). Thank you!