---
FRENCH EATING ESTABLISHMENTS
---

If you can discard the "touristy" habit of choosing establishments by their listings in a guidebook, or driving for miles to visit a "fashionable" place, you'll be more likely to experience eating as the natives do: eat where and when you like, and partake in as many regional specialties as you can. The Golden Rule here is that the only good restaurants are busy restaurants.
A few tips are in order, which will help to make your experience even more delightful:
When walking into a restaurant without a reservation, you will be treated more seriously if you always ask for a number of couverts (covers), rather than places: "Vous avez deux couverts?"
If you ask for water, keep in mind that you'll usually be brought bottled mineral water, priced like other drinks, unless you specify "une carafe d'eau" (a free pitcher or carafe of tap water).
You may encounter several different types of menus, offering varying degrees of selection and price, which it is helpful to understand:
Menu prix-fixe: Every French restaurant must offer a fixed-price meal, which usually consists of four courses (with a choice of dishes at each course), and may include wine (but not coffee). Better than à la carte, quality is invariably good, and tax and service are included. Many restaurants offer several set menus at different price levels, with more expensive ones including extra courses, pricier ingedients, or a superior vintage of wine. Look for a menu du jour (a set menu of the day), which will generally be freshest and best, and check out what those around you have ordered.
Menu dégustation/menu surprise: A tasting menu, presenting you with a procession of small servings (chosen by the chef if it is the surprise menu). The simple restriction: everyone at the table must have the same nenu.
La carte: Everything offered which is not on the special menu--these dishes will be more expensive. Main courses arrive with a garnish of vegetables. Usually there will be a plat du jour (dish of the day).
Table d'hôte: These words posted outside a farmhouse once meant that anyone was invited to join the family at a single sitting and at a fixed price. Nowadays, the idea has caught on at a number of country restaurants, offering a chance to try real home cooking inexpensively.
Menu touristique: Usually dull Eurofare aimed at the tourists, not generally recommended, though some do try.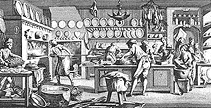 The following glossary of gastronomic and drinking establishments should give you an idea of what to expect as you sample the local culture:
Auberge: Restaurant, usually attached to a country hotel, or situated in rural areas.
Auberge de Campagne: Uncommon, similar to an auberge du terroir but with guest rooms.
Auberge du Terroir: Restaurant offering traditional, regional dishes, and approved as one using only local produce.
Bar: Rarely serve food or coffee, except perhaps simple dishes or sandwiches.
Bistro: In the provinces, a cross between a café and a restaurant. Patrons of city bistros will typically encounter cramped space, noise, and rudeness, though often good food will compensate.
Brasserie: Meals, drink & coffee any time of day. Choucroute and sausage are served in most, attributable to the Alsatian origins of this sort of establishment. Modern versions in Paris may combine old-fashioned brasserie with American drugstore.
Buffet: Usually found at stations and airports. Food & drink available at all times, often much better than customers of British Rail or Amtrak would expect.
Buvette: A kiosk selling drinks, sandwiches, and ice creams.
Café: Drinks and coffee at the bar (prices lower) or from a waiter. Sometimes offer simple meals, though snacks (casse-croûte) are always available. Croissants and brioches in early morning, followed by baguette sandwiches (usually with thin slices of ham or cheese) and croque-monsieur (toasted ham & cheese sandwich). All serve tea gladly, or will make a fresh lemon or orange drink (citron/orange pressé). It's not uncommon for patrons to sit awhile with only a cheap drink.
Caféteria: Quick, basic meals & drinks. The ones at hypermarkets are often very good.
Crêperie: Usually found in tourist haunts, serving crêpes with sweet or savory fillings, often associated with Brittany. (Savory crêpes made of buckwheat, sweet ones of wheat flour.)
Drugstore: Hot dogs and other American fast foods, along with simple French dishes.
Estaminet: Small bar, often seedy.
Ferme-Auberge: A working farm offering meals of traditional regional dishes. Ingredients must be predominantly from the farm itself or from immediate locality.
Hostellerie: A restaurant, usually attached to a country hotel.
Libre-service: A self-service cafeteria, often part of a hypermarket.
Relais routiers: Motorway or main road truck stops, popular with English Francophiles. Generous portions of good plain regional food.
Restaurant: For meals only.
Restoroute: Restaurant set near a motorway.
Rôtisserie: A restaurant, sometimes called a grill, which once specialized in grills or roasts. Now, most serve everything.
Salon de Thé: Tea room & coffee shop, often part of a patisserie. Besides cakes and pastries, light meals are often served. Popular with lone women, who may feel more comfortable here than in cafés or restaurants.
Snack-bar: Basic food served quickly.
Taverne: Usually a rural restaurant.
Source: Edible France, A Traveler's Guide, by Glynn Christian, published 1997 by Interlink Books - Brooklyn, New York.
---
Intro to French Cuisine || Eating Establishments
Culinary Links:
About.com Guide to French Cuisine
Anne Cerva has lived and worked in France, learning how to prepare French dishes. Now she recreates its cuisine in her own kitchen, and serves as your Guide at About.com, dishing up a host of articles, recipes and links.
Sélection Saveurs du Monde
Presse Internationale MSCOMM has assembled a list (in French), organized by provincial region, of their favorite eating establishments.
Translate this page into French
[Warning: results may be hilarious!] AltaVista provides a translation feature which will re-load this page in French. Machines and software are far from perfect, as you will see, because idiomatic expressions and even certain aspects of text formatting can confuse them terribly. However, at the very least, you may get a good laugh or even be amazed at what "artificially intelligent" programs can do these days!
Contributions, suggested links and comments are welcome!