Newspapers and Magazines
English-language newspapers, such as the European, the Washington Post, New York Times and the International Herald Tribune, are on sale the same day in Paris, and in most large cities and resorts the day after publication.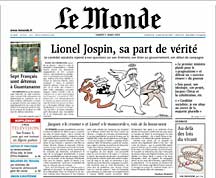 Of the French daily papers, Le Monde is the most intellectual; it is widely respected, but somewhat austere, making no concessions to such frivolities as photographs. Libération, founded by Jean-Paul Sartre in the 1960s, is moderately left-wing, independent and more colloquial, with good, if choosy, coverage — while rigorous left-wing criticism of the French government comes from L'Humanité, the Communist Party paper.
The other nationals are all firmly right-wing in their politics: Le Figaro is the most respected. The top-selling national is L'équipe, which is dedicated to sports coverage, while Paris-Turf focuses on horse-racing. The widest circulations are enjoyed by the regional dailies. The most important of these is the Rennes-based Ouest-France — though for travelers, this, like the rest of the regionals, is mainly of interest for its listings.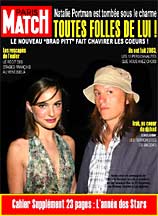 Weeklies of the Newsweek/Time model include the wide-ranging and socialist-inclined Le Nouvel Observateur, its right-wing counterpoint L'Express and the boringly centrist L'évènement de Jeudi and the newcomer with a bite, Marianne. The best investigative journalism is to be found in the weekly satirical paper Le Canard Enchainé. Charlie Hebdo is a sort of Private Eye or Spy Magazine equivalent. There is also Paris-Match for gossip about stars and the royal families.
Monthlies include the young and trendy — and cheap — Nova, which has excellent listings of cultural events, and Actue!, which is good for current events. There are, of course, the French versions of Vogue, Elle (weekly) and Marie-Claire, and the relentlessly urban Biba, for women's fashion and lifestyle.
Moral censorship of the press is rare. On the newsstands you'll find pornography of every shade, as well as covers featuring drugs, sex, blasphemy and bizarre forms of grossness alongside knitting patterns and DIY. You'll also find French comics (bandes dessinées), which often indulge such adult interests: wildly and wonderfully illustrated, they are considered to be quite an artform and whole museums are devoted to them.
Some of the huge numbers of homeless people in France (les sans-logement) make a bit of money by selling magazines on the streets which combine culture, humour and self-help with social and political issues. Costing €1.53, the most well-known of these is L'Itinérant.
Television and Radio
French TV has six channels: three public (France 2, Arte/La Cinquième and FR3); one subscription (Canal Plus — with some unencrypted programs); and two commercial open broadcasts (TF1 and M6).

In addition there are the cable networks, which include France Infos, CNN, the BBC World Service, BBC Prime, MTV, Planète (which specializes in documentaries), Paris Première (lots of French-dubbed films), and Canal Jimmy (Friends and the like in French). There are two music channels: the American MTV and the French-run MCM, where you can get a real education on French rap.
Arte/La Cinquième is a joint Franco-German cultural venture that transmits simultaneously in French and German: offerings include highbrow programs, daily documentaries, art criticism, serious French and German movies and complete operas. During the day (6:00 a.m. - 7:00 p.m.), La Cinquième uses the frequency to broadcast educational programmes. Canal Plus is the main movie channel (and funder of the French film industry), with repeats of foreign films usually shown at least once in the original language. FR3 screens a fair selection of serious movies, with its Cinéma de Minuit slot late on Sunday nights good for foreign, undubbed films. The main French news broadcasts are at 8:30 p.m. on Arte and at 8:00 p.m. on F2 and TF1.
If you've got a radio, you can tune into English-language news on the BBC World Service on 648kHz AM or 198kHz long wave from midnight to 5:00 a.m. (and Radio 4 during the day). The Voice of America transmits on 90.5, 98.8 and 102.4 FM. If you're in the Paris area, you can listen to the news in English on Radio France International (RFI) for an hour (3:00-4:00 p.m.) on 738 kHz AM. For radio news in French, there's the state-run France Inter (87.8 FM), Europe 1 (104.7 FM) or round-the-clock news on France Infos (105.5 FM).
| | |
| --- | --- |
| Related Links | |
Broadcast Media in France
Links to broadcast media in Paris and all regions of France: public television stations, private cable networks, specialty channels, plus a list of popular radio stations. History of broadcasting in France since the first radio transmission from the Eiffel Tower in 1921.
Print Media in France
History of the French press; overview of government subsidies and publishing trends. Links to daily & weekly newspapers, financial, sports and fashion publications, event calendars, TV guides, wire services. Also U.S.-based French publications.
| | |
| --- | --- |
| Nominate A Site — Submit An Article! | |
Print & Broadcast Media in France
Do you know of a great web page we should list here? If so, please submit it!
Are you an author, educator, student or traveler who would like to write an article for the enjoyment of our francophile community? Please download our author's guidelines (48K PDF). Thank you!
GO TO NEXT PAGE » Postal Services
---
Content edited by Ian C. Mills.
Sources: (1.) Destination Guides © Rough Guides Ltd as trustee for its authors. Published by Rough Guides. All rights reserved. The Rough Guides name is a trademark of Rough Guides Ltd. Content reproduced here is licensed through Discover France's affiliation with certain travel providers. (2.) Égide Agency for International Mobility.
Images: Animated graphic for "france télévisions", designed by Ian C. Mills, © 2004 Discover France. All Rights Reserved.
---