---
HEMINGWAY'S PARIS ~ Part 1
---

The Expatriates
It is not uncommon to envision places and events in the world through the eyes of the artists and writers who have depicted them to us, whether through a particularly striking sunset on canvas, a moving musical overture, or colorful prose. So it is with Ernest Miller Hemingway's often bittersweet perspective on Paris, reflected in A Sun Also Rises and A Moveable Feast. Countless travelers, students of his literary work, and aspiring young writers yearning to experience their own version of a bohemian and creative existence in the City of Light, have over a half-century relied on his descriptions to gain a sense of what is Paris, France. In this chapter, we will cover the evolution of the literary community which brought Hemingway and other expatriate writers to Paris.
The wave of American authors who made their pilgrimage to Paris after Word War I was not the first to embrace it as a center for intellectual and artistic expression. During the years before the war, two American women had already made their mark on the city, surrounding themselves with distinguished and talented friends. Gertrude Stein and Natalie Clifford Barney hosted two literary salons which, though somewhat unconventional for the times, followed a Parisian tradition dating back three hundred years. Both lesbians and coming from wealthy backgrounds, living on private means, they had chosen Paris as much for its atmosphere of tolerance, which did not then exist at home.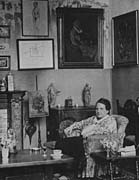 It was Stein's brother, Leo, who first moved to Paris to live as an artist, renting the apartment at 27 rue de Fleurus which Gertrude would eventually make famous. After she had spent four unhappy years studying medicine at Johns Hopkins, Stein realized that she had mistaken her vocation and dropped out, accepting her brother's invitation to come to Paris. Leo introduced her to the work of Cézanne, and -- through Cézanne -- to modern painting. Against Gertrude's wishes, Leo also bought the first of the Stein Picassos. It wasn't long before they were buying Cézannes, Gauguins, Renoirs, a Toulouse-Lautrec, and had discovered the work of Matisse. Such patronage helped to foster Gertrude's avant-garde reputation back home; she was frequently visited by American modernist painters and informed art-lovers.
Returning to Paris after serving a post with the American Fund for French Wounded during the war, Stein resumed her penchant for collecting modern art and writing eccentric prose. Though a number of her old friends had been scattered by the war, she received a constant stream of new visitors -- more writers than painters now, including Ezra Pound, Sherwood Anderson, Robert McAlmon, Djuna Barnes, and photographer Man Ray. It was Anderson who arranged her first meeting with Ernest Hemingway in 1922. Then 23, Hemingway was impressed by Stein's charm and admired her writing; he arranged for the publication of her novel in the transatlantic review, listened to her advice on his writing, and even asked her to be a godmother to his first child.
Stein's and Barney's salons were not the only havens for the exchange of ideas among expatriate writers. One other American establishment in Paris served a similar role: Shakespeare and Company, an English-language bookstore founded and run by Sylvia Beach, was much more than just a place to buy books. It was also a meeting place, an information bureau, a forwarding address for American writers in Paris, and a lending library where the young Hemingway was an almost daily visitor. Originally opened in 1919 in a disused laundry on the rue Dupuytren, the venerable bookstore was moved two years later to larger and busier quarters at 12 rue de l'Odéon, where it remained for the next twenty years. Hemingway called Sylvia Beach "Madame Shakespeare", and Gertude Stein -- not coincidentally -- had been the lending library's very first subscriber. The store's international fame was built largely on its one and only publishing venture, that of James Joyce's Ulysses, a volume which stirred controversy and protest worldwide at the time.
---
Author: Ian C. Mills ©1998-99 All Rights Reserved
Bibliography: The Cafés of Paris: A Guide, Christine Graf, Interlink Publishing Group Inc., Brooklyn, NY. Paris: A Literary Companion, Ian Littlewood, Franklin Watts Inc., New York (out-of-print). Americans In Paris, Tony Allan, 1979, Contemporary Books Inc., Chicago (out-of-print). A Guide To Hemingway's Paris - with Walking Tours, John Leland, Algonquin Books of Chapel Hill, NC, division of Workman Publishing Co. Inc., New York. Passport's Illustrated Travel Guide to Paris, 3rd Edition, Elizabeth Morris, 1996, Passport Books, division of NTC Publishing Group, Chicago. Fodor's 97 France, Fodor's Travel Publications, Inc., published in the U.S. by Random House, Inc., New York. Tripod LiteraTour: Hemingway.
Image sources: Gertrude Stein in her Paris studio: from A Moveable Feast, © 1964 Ernest Hemingway Ltd., Charles Scribner's Sons, New York. Cover shot of "The Sun Also Rises", from Amazon.com Books.
---
---

---

Hemingway's first bestselling novel, first published in 1926. Set in the 1920s, the novel deals with a group of aimless expatriates in France and Spain. They are members of the cynical and disillusioned post-World War I "Lost Generation", many of whom suffer psychological and physical wounds as a result of the war. Two of the novel's main characters, Lady Brett Ashley and Jake Barnes, typify this generation. Lady Brett drifts through a series of affairs despite her love for Jake, who has been rendered impotent by a war wound. Friendship, stoicism, and natural grace under pressure are offered as the values that matter in an otherwise amoral and often senseless world. A brilliant depiction of the Lost Generation, which established Hemingway as one of the great prose stylists of all time.

by Ernest Hemingway

Usually ships within 24 hours.
Paperback - 251 pages Reissue edition
Published March 1995
List Price: $10.00
Our Price: $8.00
You Save: $2.00
ISBN: 0684800713
Continued with
" Hemingway's Paris - Part II: The Lost Generation"