---
---

Paris is more than 2,000 years old. Gauls of the Parisii tribe settled there between 250 and 200 BC and founded a fishing village on an island in the river that is the present-day Ile de la Cité -- the center around which Paris developed.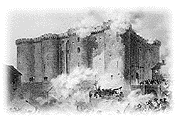 Known as Lutetia (Lutece) in ancient times, Paris was conquered by Julius Caesar in 52 BC, and existed as a regional center under the Romans and in the early Middle Ages. In 987, HUGH CAPET, Count of Paris, became king of France, and under his successors, the CAPETIANS, the city's position as the nation's capital became established. Often characterized as spirited and rebellious, the people of Paris first declared themselves an independent commune under the leadership of Etienne Marcel in 1355-58. The storming of the Bastille in 1789 was the first of a series of key actions by the Parisian people during the FRENCH REVOLUTION. Paris also played a major role in the revolutions of 1830 and 1848. In 1871, during the FRANCO-PRUSSIAN WAR , the city was besieged for four months until France surrendered.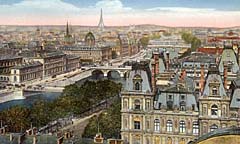 After German troops withdrew, French radicals briefly established the COMMUNE OF PARIS. During World War I the Germans were prevented from reaching Paris, but they occupied the city during World War II from 1940 to 1944. Paris was again the scene of violence during the student riots of 1968.
Paris today maintains its importance, character, and charm, though its appearance is being transformed by structures such as the BEAUBOURG and by the ambitious grands projets building program carried out under the presidency of François Mitterrand. In addition to the La Défense arch and the Bastille Opéra, Mitterrand's projects have included the renovation of the Louvre by architect I. M. Pei, the La Villette complex on the northeastern edge of the city, and, in the southeast, the Bibliothèque de France, a great computer-age library.
Planning for Paris and the Paris Basin region includes consideration of large land areas in the Seine River valley all the way to the mouth of the river. New towns, parks, industrial locations, and expanded functions of existing towns are contemplated for this corridor on both sides of the Seine.
---
Lawrence M. Sommers
Source: The New Grolier Multimedia Encyclopedia, Release #8, ©1996
Bibliography: Chelminski, Rudolph, Paris (1977); Couperie, Pierre, Paris through the Ages, trans. by Marilyn Low (1971); Evenson, Norma, Paris (1979); Flanner, Janet, Paris Journal, 2 vols. (1966-71) and Paris Was Yesterday, 1925-39 (1972); Roche, Daniel, The People of Paris (1987); Seigel, Jerrold, Bohemian Paris (1987); Thomson, David, Renaissance Paris (1984).
---
---

---

"An absorbing and intimate history of the City of Lights. Carefully tracing the evolution of the metropolis, Willms demonstrates how political, economic, and cultural currents converged to make Paris the "capital of Europe."

-- KIRKUS REVIEWS

by Johannes Willms, Eveline L. Kanes (Translator)

List: $40.00
Our Price: $40.00 (this title is not discounted)
Availability: On order; usually ships within 1-2 weeks.
Hardcover
Published by Holmes & Meier, Publishers, Inc.
Publication date: March 1997
ISBN: 0841912459
| | |
| --- | --- |
| More recommended reading: | |
A History of Modern France
Volume 2, 1799-1871
by Alfred Cobban, 1965, Penguin Books, Inc., Baltimore, Maryland (out-of-stock).
The Great Cat Massacre
and Other Episodes in French Cultural History
by Robert Darnton, 1984, Basic Books, Inc., published by Random House, Inc., New York.
Napoleon and Paris
30 Years of History
by Maurice Guerrini, translated by Mardery Weiner, 1970, Cassell & Co. Ltd., London, printed by Ebenezer Baylis & Son, Ltd., The Trinity Press, Worcester and London, England (out-of-print).
The National Geographic Traveler - France
by Rosemary Bailey, 1999, National Geographic Society, printed by R.R. Donnelley & Sons, Willard, Ohio.
Exploding with National Geographic's signature photography, this book is one in a lush new series of guides from the folks whose magazines have instilled wanderlust in multiple generations of travelers. The France guide features insightful essays on history, culture, and contemporary life in France, as well as walking and driving tours. For serious explorers, there are detailed floor-plan sketches of important sites such as Notre Dame and Versailles. Other user-friendly touches range from color-coded regional sections to quick-reference visitor information (hours, fees, telephone, etc.) listed in side columns with keys to associated maps.
-- Kathryn True
Paris In the Terror:
June 1793 - July 1794
by Stanley Loomis, 1964, J.B. Lippincott Company, Philadelphia and New York (out-of-print).
Paris In the Third Reich
A History of the German Occupation, 1940-1944
by David Pryce-Jones, 1981, Holt, Rinehart and Winston, New York (out-of-print).
Paris Was Yesterday
1925-1939
by Janet Flanner, edited by Irving Drutman, 1972, The Viking Press, Inc., New York (out-of-print).
Pleasures of the Belle Epoque
Entertainment & Festivity in Turn of the Century France
by Charles Rearick, 1985, Yale University Press, printed by Murray Printing Co., Westford, Massachusetts.
The Women of Montparnasse
by Morrill Cody with Hugh Ford, ©1984, Rosemont Publishing and Printing Corp., printed by Cornwall Books, Cranbury, New Jersey (out-of-print).