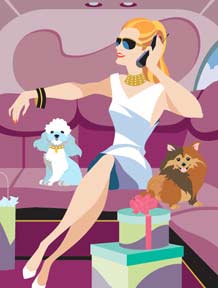 Do you live (love) to SHOP? Paris is a shopper's dream, of course, and the "glitterati" will feel quite at home in the Haute Couture shops found on Rue du Faubourg Saint-Honoré and Avenue Montaigne in the 8th arrondissement. Top quality shoes, bags, and leather goods are the province of Rue du Cherche-Midi and Rue de Grenelle in the 6th. Truly trend-setting fashions may be seen in the shops on Rue Étienne Marcel and Place des Victoires bordering the 1st and 2nd arrondissements. Some of the better-known emporiums of Haute Couture and jewelry include: Cartier (8th), Céline (8th), Chanel (1st & 8th), Chaumet, Christian Dior (8th), Christian Lacroix (8th), Piaget, Yves Saint Laurent (16th), and Van Cleef & Arpels (8th).
Sadly, the boulevard Champs-Elysées – formerly the bastion of fashion and class – has degenerated into a neon strip of fast food chains, banks, airline offices, malls, and cinemas aimed squarely at the tourists. Exceptions to this trend are the Guerlain Parfumerie (at #68), with its turn-of-the century elegance and its curved staircase, as well as the neo-classical Virgin Megastore (at #52/60), a mammoth retail haven for recorded music.
Les Halles (1st arrondissement, métro line 4), once a massive above-ground central market for Paris until it was demolished in 1971, now offers a subterranean shopping center – the Forum des Halles – with more than 180 stores connected by a maze of escalators and mall-walks guaranteed to give anyone a headache. If you can survive the nightmare, it is possible to find low-budget copies of Parisian-chic fashions and other trendy clothes here.
For a pleasurable and mainstream shopping experience à l'américaine, shoppers should check out the plethora of colossal department stores in Paris. Two of the most famous rivals, Printemps and Galeries Lafayette, may be found side-by-side on Boulevard Haussmann in the 9th arrondissement, carrying designer, brand name and private label merchandise. Bazar de l'Hôtel de Ville - BHV, located in the 4th, is better known for practical commodities, such as furnishings, do-it-yourself supplies, lighting and auto parts, though they do stock a decent selection of clothing and accessories. Le Bon Marché, the only Left Bank (7th arrondissement) department store, earns top marks from both shoppers and food lovers, with its adjoining food halls and roof garden.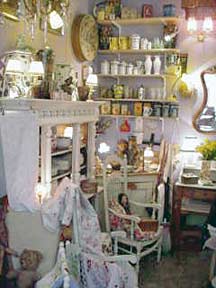 One of the stalls at
St-Ouen flea market
One of the most renowned places to find treasures in Paris is at the flea market. Paris has three main flea markets of ancient descent, situated around the old gates of the city. The origin of the name refers to the cast-off clothes of royalty which were commonplace in centuries of old, teeming with the little insects. No longer the haunts of flamboyant gypsies and petty crooks of literary tradition, they are nonetheless still a place where you should particularly guard against pickpockets. Entertaining in every respect, they are a good source of bargain treasures if you go early enough (between 5 a.m. and 6 a.m.), before the massive influx of shoppers. Antikita's official web site of the Saint Ouen Flea Market (Porte de Clignancourt, 18th arrondissement ) provides a map of the sprawling complex and permits virtual windowshopping of its merchants' wares. The other major markets may be found at Porte de Vanves (14th) and Porte de Montreuil (20th).
Bookworms will find most books in Paris to be somewhat expensive, particularly foreign books. However, one of the most charming fixtures in Paris consists of the rows of bookstalls perched against the parapet of the Seine River, known as les bouquinistes. Here, many a connoisseur of ancient tomes has been able to find a particularly valuable first edition, given an appropriate degree of patience and a seasoned knack for bargaining. For general French titles, the largest and most convenient shop is the FNAC in the Forum des Halles. Two of the better-known English-language bookstores are Galignani (1st arrondissement ) and Shakespeare & Co. (5th).

There are a growing number of supermarkets to be found throughout the city, catering to the changing pace of Parisian lifestyles. These types of grocery stores are referred to by various names, such as superette (a really small version), supermarché, or hypermarché, and they include brands such as Casino, Champion, Ed, Franprix, Leader Price, and Monoprix. In addition to dairy, produce, grocery, household staples and toiletries, most of these stores also carry a selection of wines and some other spirits. Shopi offers the facility to build your shopping list online, and G20 even offers home delivery (5€ for purchases over 60€, free delivery over 120€).
Nevertheless, traditionally-minded Parisians still prefer to buy much of their food from specialty stores, such as bakeries (boulangeries), butcher shops (boucheries), cheese shops (fromageries), etc. A decided advantage to shopping at most specialty stores is that the bread, pastries, cheese, or pâtés have been created on the premises with the loving care of skilled artisans.
For economic reasons, many Parisians like to patronize the open-air markets, which can be found throughout the city. We've assembled a list of some of the most popular markets purveying produce, flowers, clothing, pets, stamps & postcards, etc.
According to Pariscope, "In a single week, you can go to fifty-eight different markets in Paris. Historians say the first market appeared in the Ile de la Cité in the 5th century." (Note that most outdoor markets are open for limited hours, usually between 7 a.m. and 1 p.m. – and never on Mondays.)
Whether you envision buying half of Paris, or simply enjoy the wealth of window-shopping opportunities, Parisian shops are an integral part of the city's cultural identity, and make it the ultimate destination for the discerning consumer. Those fortunate enough to be visiting at the beginning of January or the beginning of July during the sales, may take advantage of substantial discounts, ranging between 30% and 50% on clothing, shoes, accessories, and furnishing fabrics. Almost all retailers can provide you with a "détaxe" form, to claim a refund on the 18.6% sales tax if purchases exceed a certain level; this form should be presented to customs upon leaving France, and you should expect your refund within about six weeks.
Editing, translation, and portions written by Ian C. Mills © 2000- – All Rights Reserved.
Bibliography: Fodor's Paris, Fodor's Travel Publications, Inc., published in the U.S. by Random House, Inc., New York. Paris From $70 A Day, Jeanne Oliver, 1998, Macmillan Travel, A Simon & Schuster Macmillan Company, New York. The Paris Pages, Paris Tourist Office (web sites).
Images: Seated woman shopper with two dogs, from Art Explosion 750,000 DVD-ROM Edition, used under license from Nova Development. One of the stalls at St-Ouen flea market, photographer unknown, used with permission from www.antikita.com © Antikita. Franprix logo, © Le Marché Franprix, Paris, a brand of Groupe Casino. All Rights Reserved.

General Shopping Info
Customs and Tax Refund Information
This site offers travelers invaluable tips regarding regulations on the import and export of currency, travelers checks, negotiable instruments, merchandise, etc., as well as how to claim a tax refund on the Value Added Tax (or VAT) for eligible goods you take home.
Guide to Shopping in Paris
The French Government Tourist Office offers practical information on tourism tax, duty-free shopping, currency, prices, credit cards, emergency numbers, restaurants, sightseeing, and nightlife.
Prices in Paris
The Paris Convention and Visitors Bureau provides a cursory overview of prices for common items in the city. More helpful, perhaps, is its analysis of price ranges for lodging, including a breakdown by hotel rating (number of stars).
Shopping Centers
This directory lists eleven shopping centers in Paris, complete with addresses, phone numbers, business hours, and métro stops.

Covered and Open-Air Markets
Directory of Paris Markets
There are 69 open-air and 13 covered markets in Paris, selling everything under the sun – from cheese, fresh produce, and meats, to birds, books, clothing, and flowers. We list the most popular places by address, phone, business hours, and metro stop.

Department Stores
Directory of Paris Department Stores
Merchandise offerings, addresses, phone numbers, business hours, and métro stops for nine of the largest stores – Au Printemps, BHV, Bon Marché, C&A, Galeries Lafayette, etc.

Second-hand & Antiques
Carré Rive Gauche
Browse among 120 different antique galleries in the heart of Paris. (in French only)
Flea Markets & Antiquities
This directory lists all the marchés aux puces around Paris, as well as vendors specializing in stamps, old postcards and books, coins, photos, exceptional works of art, lithography, tapestries, fine furniture, mirrors, leather goods, clothing, tools, old bronze, toys, engravings and crafts.
History of the Saint-Ouen Flea Market
Trace the development of flea markets in Paris over the centuries. Saint-Ouen, the largest, attracts 11 million visitors a year to its 2500 antique and bric-a-brac dealers, spread across 17 acres.
Le Louvre des Antiquaires
Address: 2, place du Palais-Royal, 75001 Paris (Métro: Palais-Royal).
This upmarket antiques center behind the façade of an old grand magasin houses some 250 antiques dealers. Just the place for Louis XV furniture, tapestries, Sèvres and Chinese porcelain, silver and jewelry, model ships and, of course, tin soldiers.

More Recommended Reading
A Shopper's Guide to Paris Fashion
by Alicia Drake, Jason Brooks (Illustrator)
publ. 2000, 288 pages, Interlink Pub. Grp., customer rating: 5 stars.
Best Buys and Bargains in Paris
by Jeanne Feldman
publ. 2000, 172 pages, Writers Club Press, customer rating: 5 stars.
Chic Shopping Paris
by Rebecca Perry Magniant & Alison Harris
publ. 2008, 208 pages, Little Bookroom, customer rating: 4.5 stars.
eat.shop paris: the indispensible guide to stylishly unique, locally owned eating and shopping
by Jon Hart
publ. 2006, 192 pages, Cabazon Books, customer rating: 5 stars.
The Flea Markets of France
by Sandy Price, Emily Laxer (Photographer)
publ. 2009, 248 pages, Little Bookroom, customer rating: 5 stars.
Markets of Paris: Food, Antiques, Artisanal Crafts, Books & More...
with Restaurant Recommendations
by Dixon Long, Ruthanne Long, & Alison Harris (Photographer)
publ. 2007, 256 pages, Little Bookroom, customer rating: 4 stars.
Paris in a Basket: Markets, the Food and the People
by Nicolle Aimee Meyer, Amanda Pilar Smith, Paul Bocuse
publ. 2000, 352 pages, Konemann, customer rating: 5 stars.
The Paris Shopping Companion: A Personal Guide to Shopping in Paris for Every Pocketbook
by Susan Swire Winkler & Caroline Lesieur
publ. 2006, 259 pages, Cumberland House Publishing, customer rating: 4 stars.
Paris, Shops & More
by Angelika Taschen, Vincent Knapp (Photographer)
publ. 2007, 190 pages, Taschen, customer rating: 5 stars.
The Riches of Paris, 2nd Edition: A Shopping and Touring Guide
by Maribeth Clemente
publ. 2007, 368 pages, St. Martin's Griffin Press, customer rating: 4.5 stars.

Nominate A Site – Submit An Article!
Shopping in Paris
Do you know of a great Paris shopping web page we should list here? If so, please submit it!
Are you an author, educator, student or traveler who would like to write an article for the enjoyment of our francophile community? Please download our author's guidelines (48K PDF). Thank you!